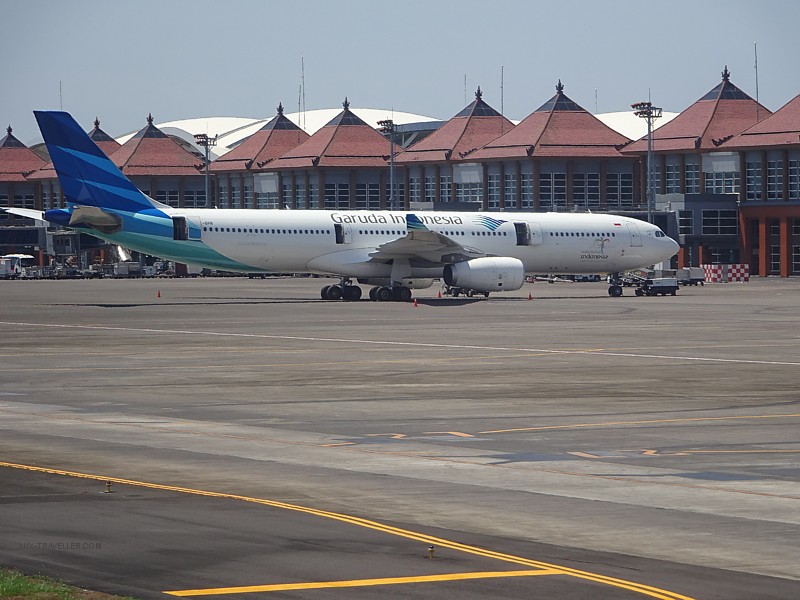 Lux-traveller.com reports on the newly upgraded Garuda Airbus A330 service from Australia to Bali and Indonesia to bring you this exclusive review and Trip Report from SYD to DPS and CGK in Business Class.
Travelling from Sydney to Jakarta, if you want to fly direct, it comes down to Qantas or Garuda Indonesia.
I could have just taken the easy flying Roo route, but I wanted to try the new Garuda, partly because of its remarkably new fleet and impressive-looking business class, but also to see if it really is an airline that's been turned round in the last few years.
I also chose to fly on a Tuesday, a day when neither Qantas nor Garuda fly direct. Therefore the only option was to fly via Bali, where Garuda Indonesia flies daily on brand new Airbus A330-300 planes, and with almost flat beds for the seven hour flight. I'd then hop on the domestic flight for the two hour hop to Jakarta on a Boeing 737.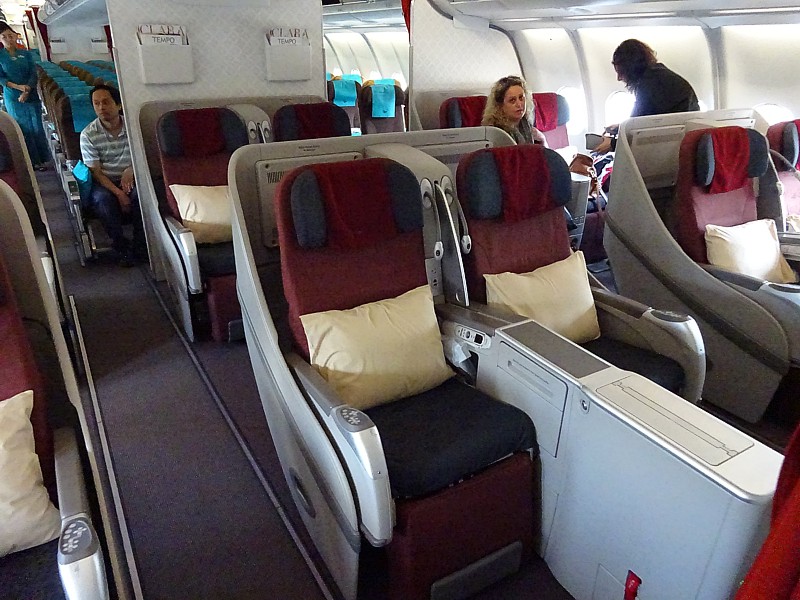 My ticket said economy, but I had other intentions, because of the amazingly cheap standby Business Class fares Garuda offer out of Sydney.
Indeed, you have three options if you want to buy a Business Class seat out of Sydney. A one way business class ticket comes in at $1000AUD, compared to $370AUD for economy.
Or, you can use their Bid Upgrade system. I tried this, and bid 6,131,000IRD ($530 AUD) for a one way upgrade. It didn't clear, even though that was the price of the original business class ticket.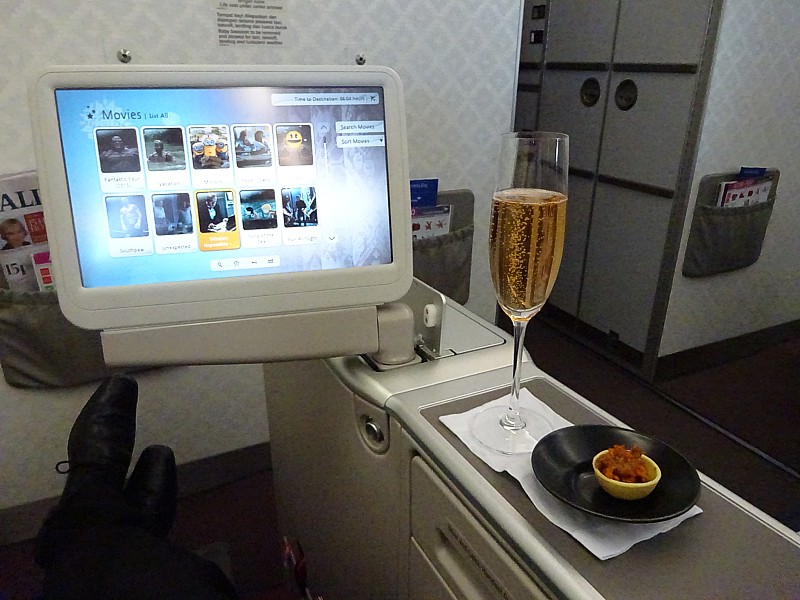 However, I knew that Garuda will sell you an upgrade at the desk in Sydney, if you take that a chance that there are still spare seats. And that's exactly what I did - paying only $322AUD for the privilege. However, we found the upgrade system at the desk rather odd, where the check in desk at Sydney will only take cash, and only if it is discretely handed over. However it comes with full Business Class privileges, including lounge access. However, it upgrades into non-revenue inventory, and as such doesn't come with frequent flyer miles.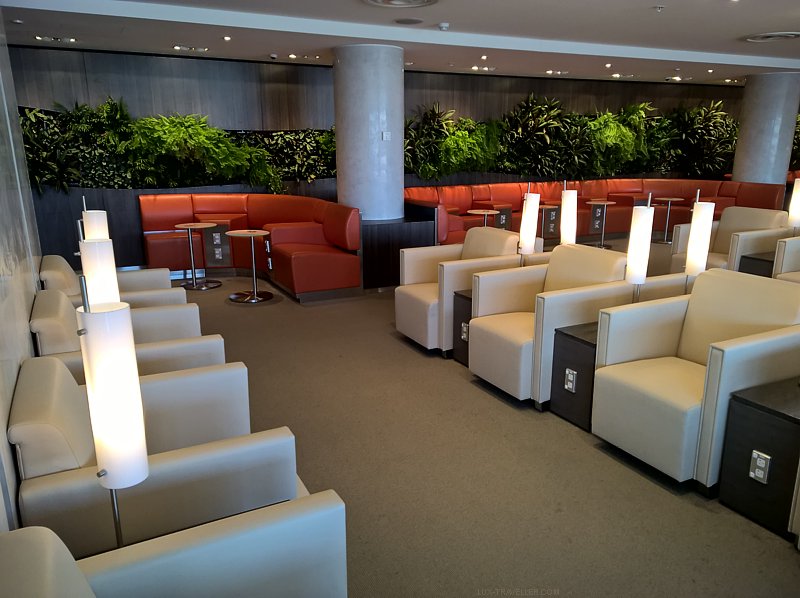 Lux-traveller has been to and reviewed the Sydney Skyteam lounge many times before, but once again we were impressed by the facility, which was particularly empty on a Tuesday, as this is the one day the Garuda flight to Jakarta doesn't fly. Once the Delta flight to the US left, we had the Sydney Skyteam lounge pretty much to ourselves.
The wine bar is particularly impressive, although it was only 9am at this point, so breakfast was more the order of the day.
The food in the Sydney Skyteam Lounge is really good - see more details in our the review. In particular this morning it has a Balinese twist, with Nasi Goreng, a stir-fried rice comes with Balinese spice paste (Base gede) in a little tub. It is commonly eaten by Indonesians for breakfast. There was also a vast dish of Congee with condiments including nuts and chillies for breakfast. Add to this roasted Chats with diced herbs, and poppadums, plus chicken sausages, plus bowls of Kimchi, Mesclun lettuce, and fresh tropical fruits, to keep us in a Bali mood.
There is free and fast wifi, and very quiet and discrete boarding announcements.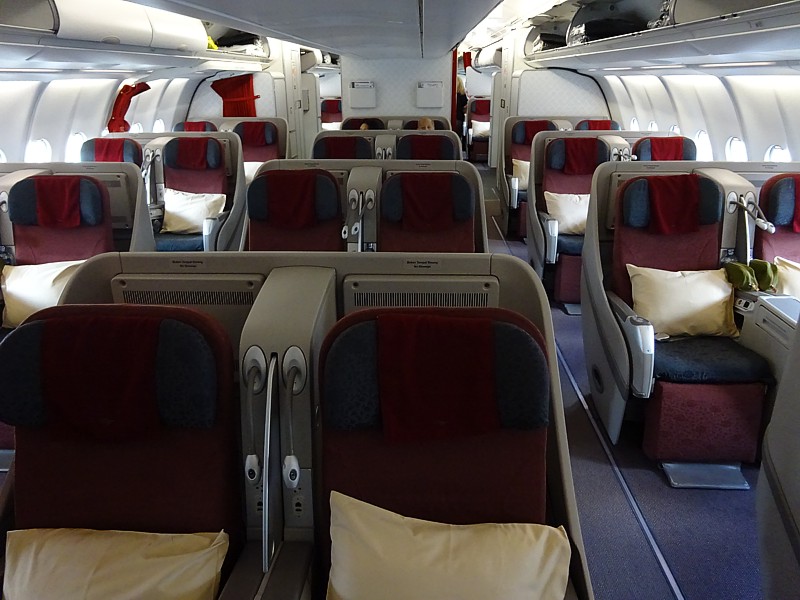 Boarding was delayed slightly, and then as we made our way to gate 30, just on the other side of yet another duty free shop. We found the boarding process a real mess, with economy passengers trying to use the priority lane. There was no attempt to turn them away. There was then a final security check (a full bag search), but with two air-bridges for the A330-200, we got to our seat fairly quickly.
The Airbus A330-300 is a two-class aircraft, with a seating configuration of 2-2-2 on Business and 2-4-2 on Economy. We nipped back to economy, and tried the seat which was OK, if not particularly spacious. Economy screens were quite large, and there were pillows and a water bottle on each seat.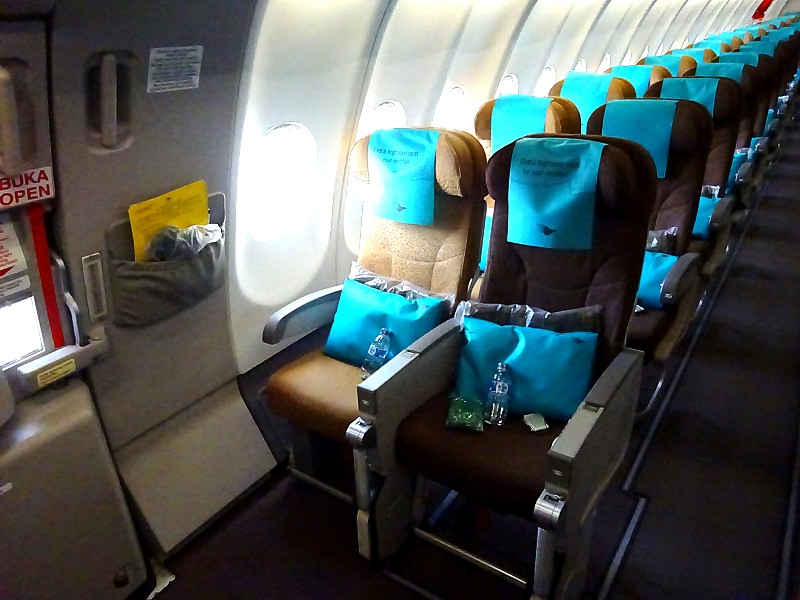 Garuda Business class is split into two cabins. Rows 1-3 come before the small snack-bar area and galley kitchen, with rows 4-6 behind.
The good news is that the Garuda A330-300 had pretty new seats. The bad news is that they don't lie flat - instead the sleeping position is at an angle. A Garuda A330 business class review is always pretty mixed because of this. Mind you the distance between your seat back and the one in front - what is called Pitch - is a good 74 inches. It reclines to 165 degrees.
The cabin crew were really friendly, and smiled a lot. However they seemed very harassed - the cabin was full, and they clearly had a huge workload. Shortly after boarding, drinks were served, with an offer of champagne, water or juice. Then the cabin crew approached us to ask what we wanted for lunch, which was odd as the menus hadn't come around yet. However we were then told there would only be two set choices - Western, or Asian. We went for the Western.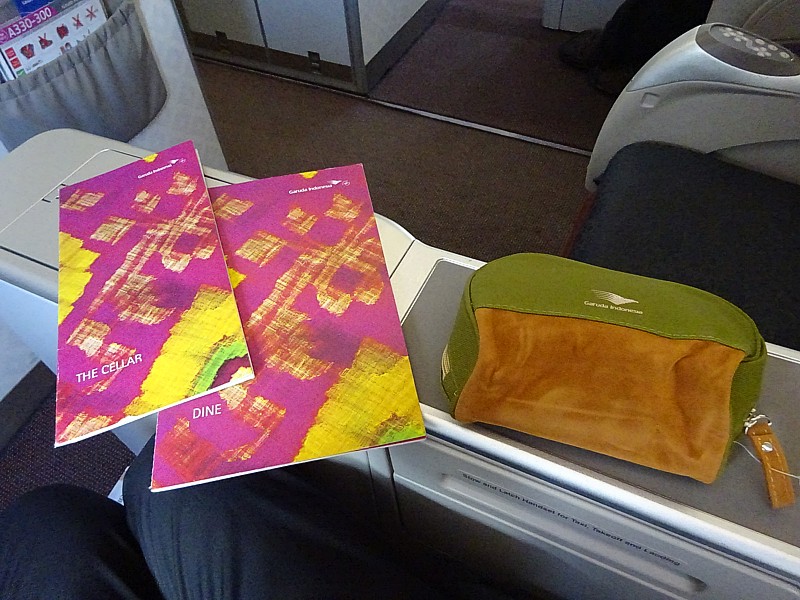 There were hot towels, as you would expect, and an amenity kit containing socks, eyeshades, toothbrush, toothpaste, a comb, and L'Occitane lip balm. The menu also made an appearance, and it has certainly improved from the last time we were on Garuda, with options of either Modern European or Asian.
There were then a lot of announcements. Garuda really like to talk a lot, and does the Indonesian announcement, before the English, which is a great way to do it, with local announcement first.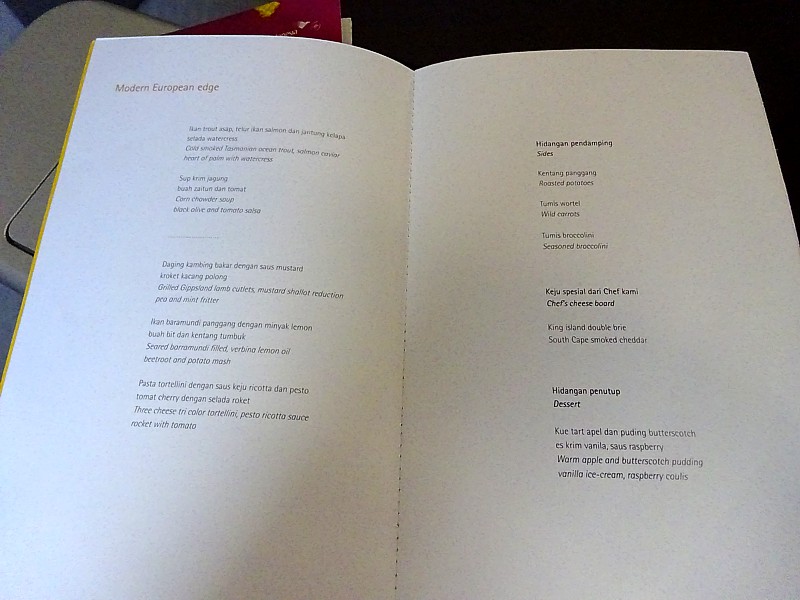 Immediately after take off I was expecting the famous Garuda in flight on-board immigration inspectors. However I was told they had been cancelled as Visas are no longer needed for Indonesia.
I played with the seat before the lunch was served, and found the seat controls are very good, and easy to set into your favourite position for reading, eating, watching a film. There's a small water bottle at every seat, and a USB charging port.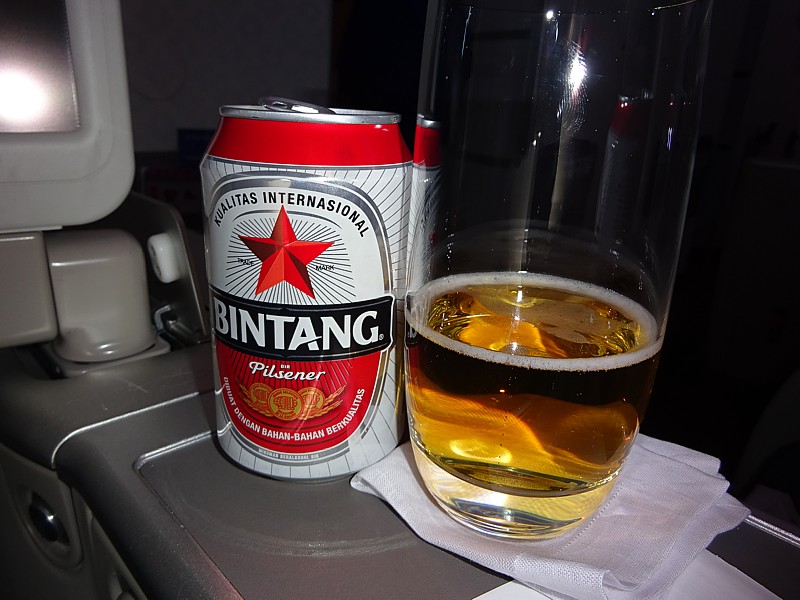 Garuda Inflight Meal
The food service on the Garuda flight to Bali started with mini-canapes and a bowl of roasted nuts and pulses. It also gave us a chance to read the wine list, which looked impressive, but had some pretty pedestrian wines.
The crew then came along and laid the table - before telling us that as the cabin was full we could only have our second choice. Which was the one choice out of two. So we ended up with the Asian lunch.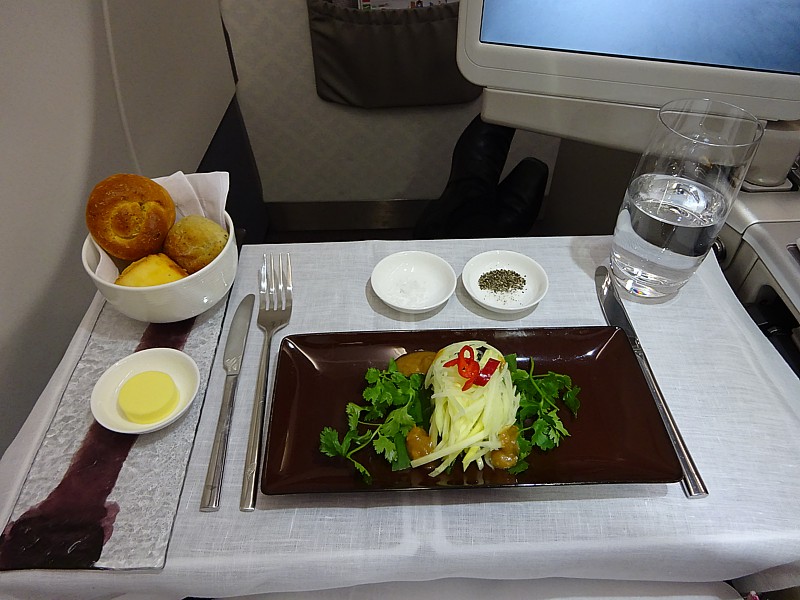 However the table setting was elegant, a huge glass 'slab' for the bread rolls, and really hefty knives and forks, with a tablecloth, salt and pepper in dishes, and stylish glasses.
These aren't any bread rolls. However, before each meal, Garuda has some famous sweet puff pastries which are amazing.
The first course came around - a rather dull Asian inspired mushroom and cheese effort, followed by Fish Head soup. This was really pretty poor, and at this point I walked back to the galley to ask if there were any Western dishes left at all.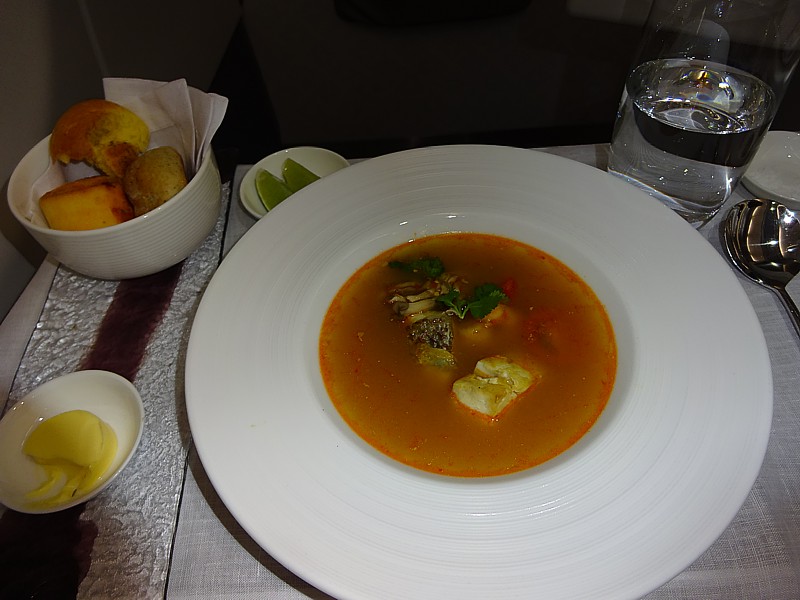 To my surprise I discovered the In-Flight Chef, who was the person who was previously refilling wine glasses in the cabin. He belatedly told me there definitely were, and although the crew had dibs on them, I could start again with the Modern European menu.
Good to see the crew were not adverse to helping out passengers by offering a meal that they had previously reserved for themselves.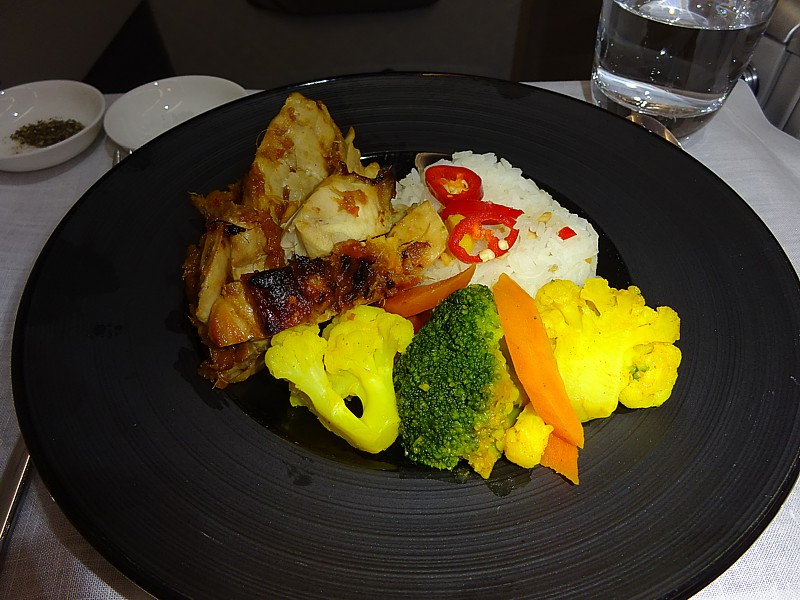 The 'Modern European' menu meant I ended up with a very pleasant Balinese Chicken and rice, with veggies. This was followed by Lamb, and mustard shallots in a pea sauce. And very good it was too.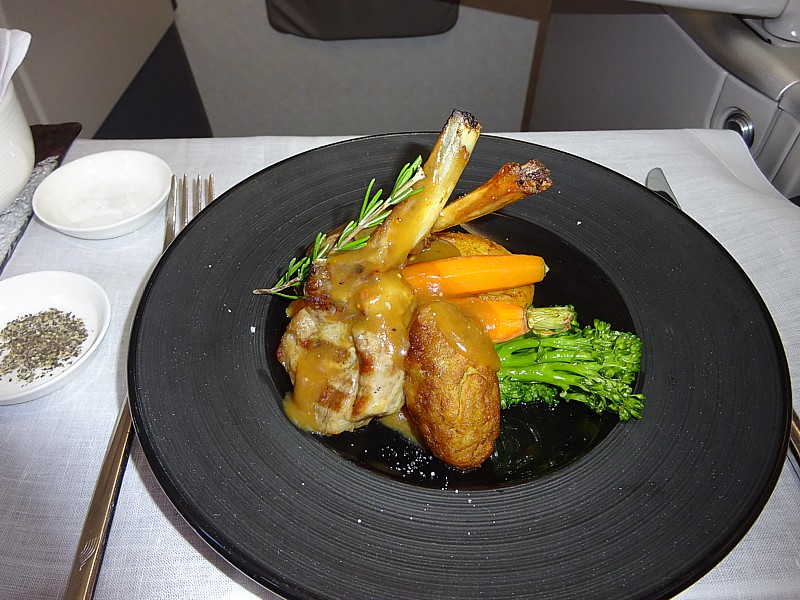 There was a cheese board, with a couple of cheeses, and finally a butterscotch and raspberry desert.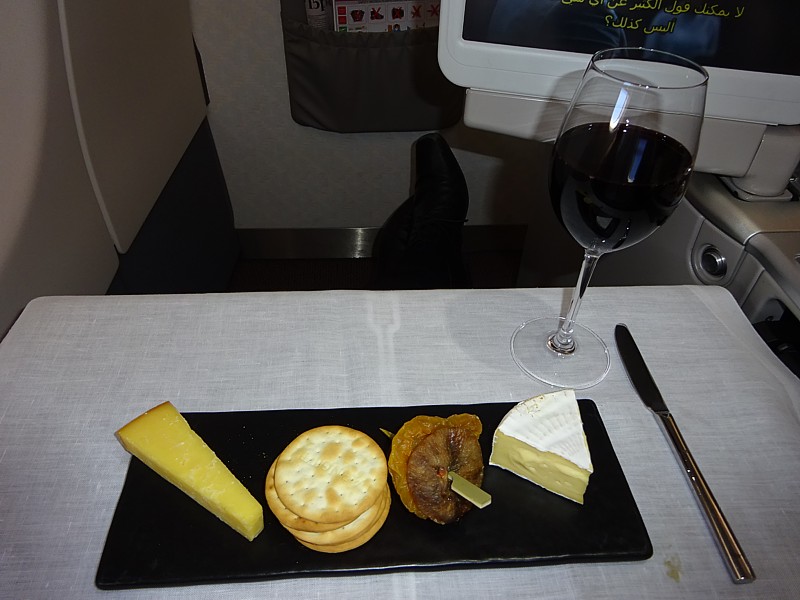 This was one of the most sensational deserts I've had on a plane in a long time. Good to see that Garuda is not a desert when it comes to desserts (read that carefully), for this is one of their signatures dishes.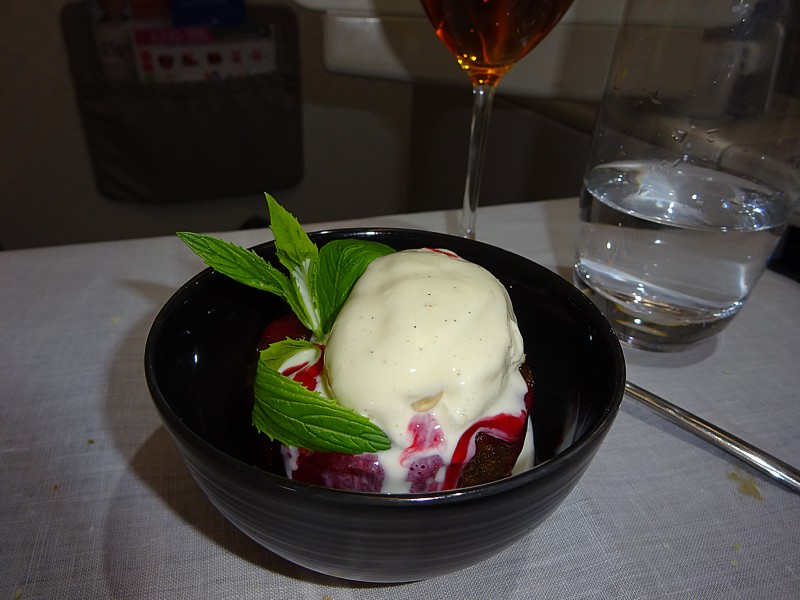 After several hours, I was starting to get a bit peckish again, and asked for the mid-flight snack, which is called 'in-between fuel'. It was served quickly, from the options of beef, prawn soup, or fruit. I went for the bowl of Nachos with Chilli and Cheese.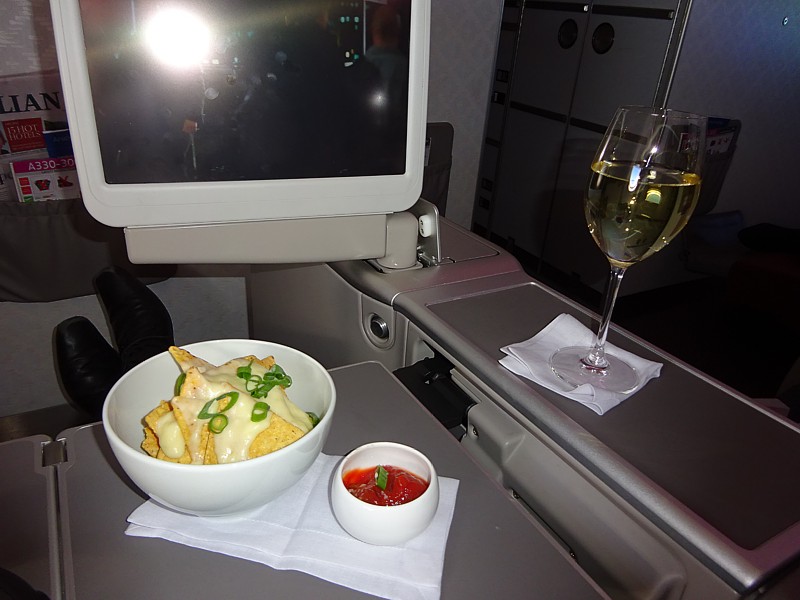 The crew were clearly under pressure on this flight which as I found was full of desk or at the gate upgrades. Throughout the flight the crew kept the drinks flowing. However, due in part to it being holiday season, the plane almost ran out of beer! The last few Bintangs went from the galley as we were in the final stages of the flight in decent.
Garuda Inflight Entertainment
The Garuda A330 has a full AVOD in-flight entertainment system, with a widescreen touch-sensitive display. It is pretty good, and I couldn't fault the hardware.
However, the content is pretty poor. There are a dozen or so new-release films from the past year, but only one headliner, and the rest are decidedly lower middle rankers. There are also a lot of TV programmes, but most of these again are pretty poor offerings from the US like Just for Laughs. It's certainly not up to the world-leading Qantas or British Airways offerings. However there is a full universal AC power point to keep your laptop charged.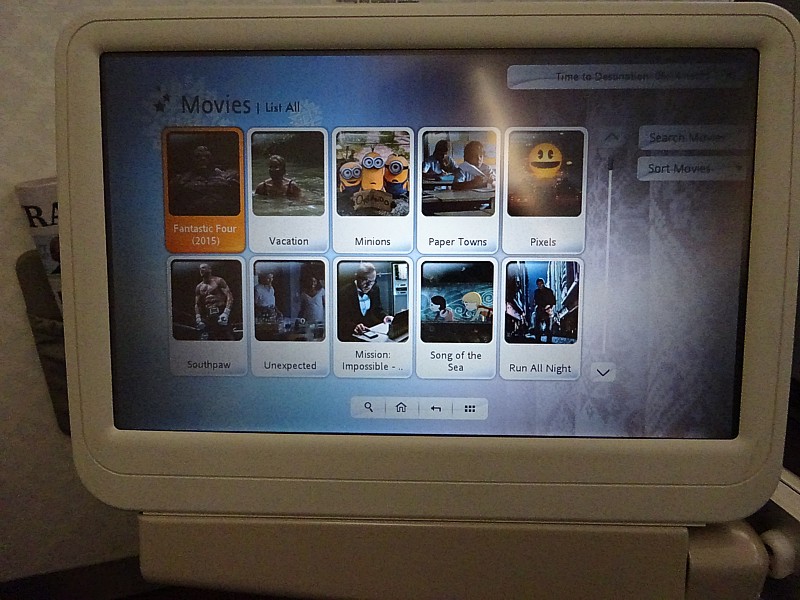 Business class comes with noise cancelling headphones and handheld entertainment control.
There was also inflight Wifi, but at $10US for 10MB (plus an extra currency conversion charge) it looked a bit pricey and we didn't partake.
There are also three (Three!) inflight magazines. Arcade, the in-flight shopping catalogue, Stars for their in-flight entertainment and Colours, the main in-flight magazine for Garuda Indonesia. Good to see Garuda keep the U in it.
Garuda Domestic Business Class
At Bali we left the aircraft first, and had to transit to the domestic terminal, where there was a three hour wait.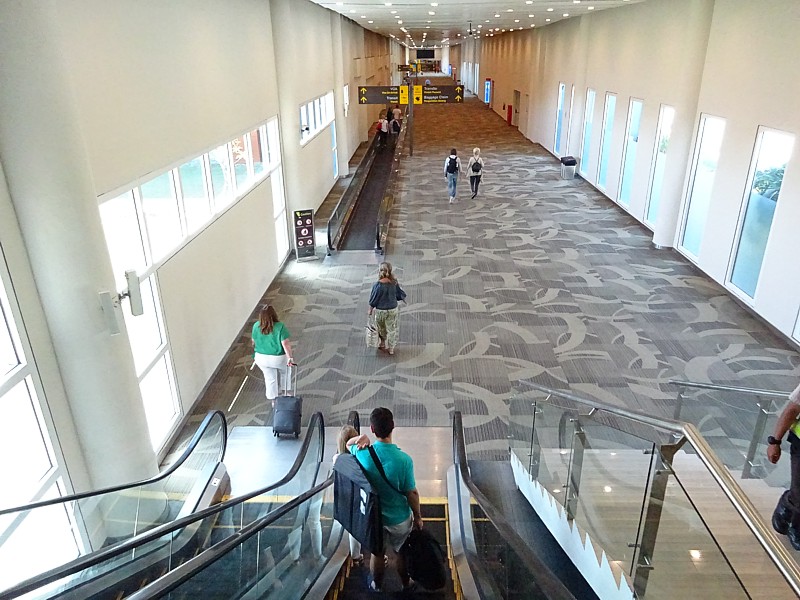 Rather than hang around, we nipped into Denpasar, and tried to find a local eatery or bar to while away the time.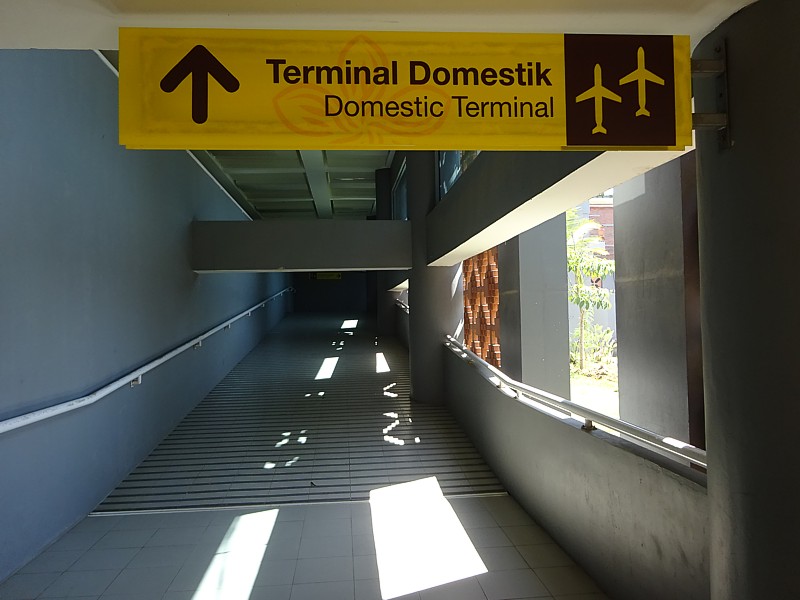 Alas, the only place the locals directed us to was 'Jamie's Italian' in Bali! Not exactly Indonesia. The Indonesian taxi drivers charmed us by charging 150,000IRD to leave the airport, but only 25,000 to return, as is their custom.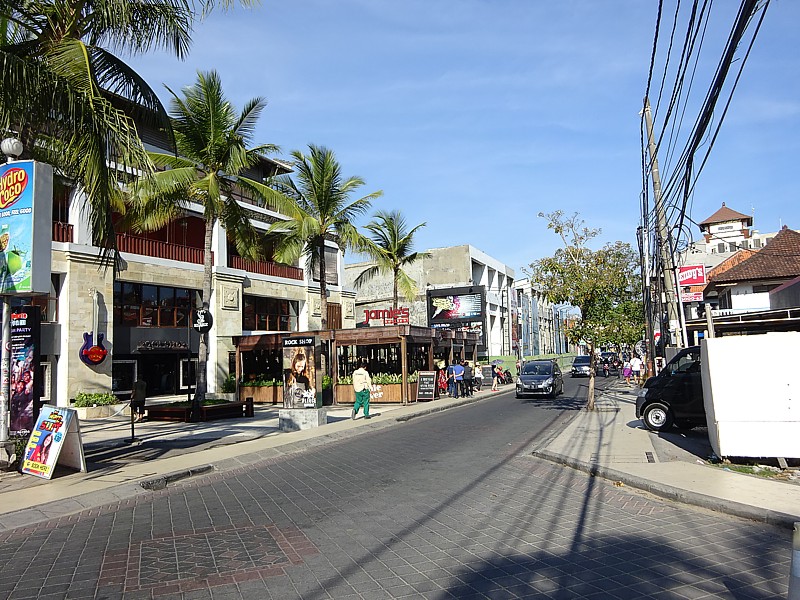 After returning to the airport, and again I asked for an Upgrade at Check in from Garuda to Jakarta. This was swiftly purchased for $35AUD, a real bargain.
The domestic lounge at Bali is operated by Garuda, however it is dry. Check out our review of the Garuda Bali Domestic Lounge. It has great food, but is quite small. The Australian 'Coffee Club' at Bali airport however serves an excellent range of beer and wine.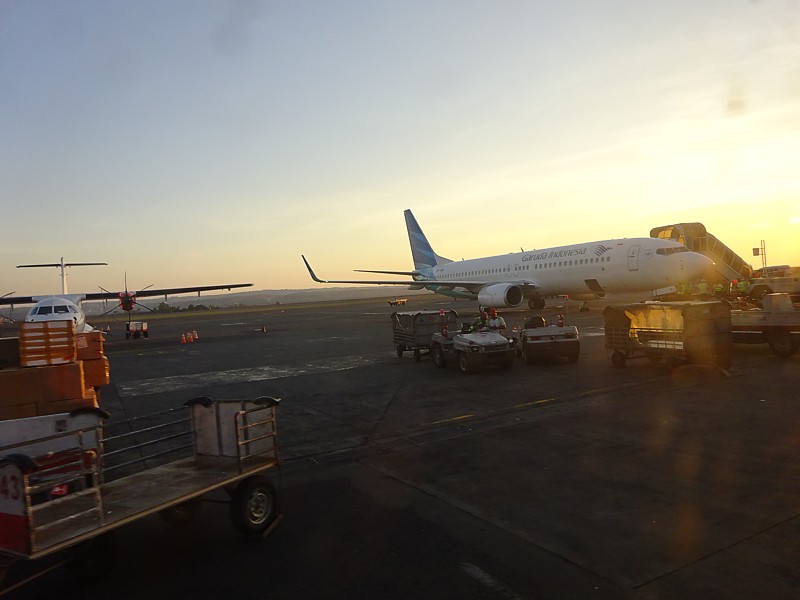 Operating the sector from Bali to Jakarta was a Garuda Indonesia Boeing 737, which was straight out of the factory, and almost entirely full of crew in the Business Class section.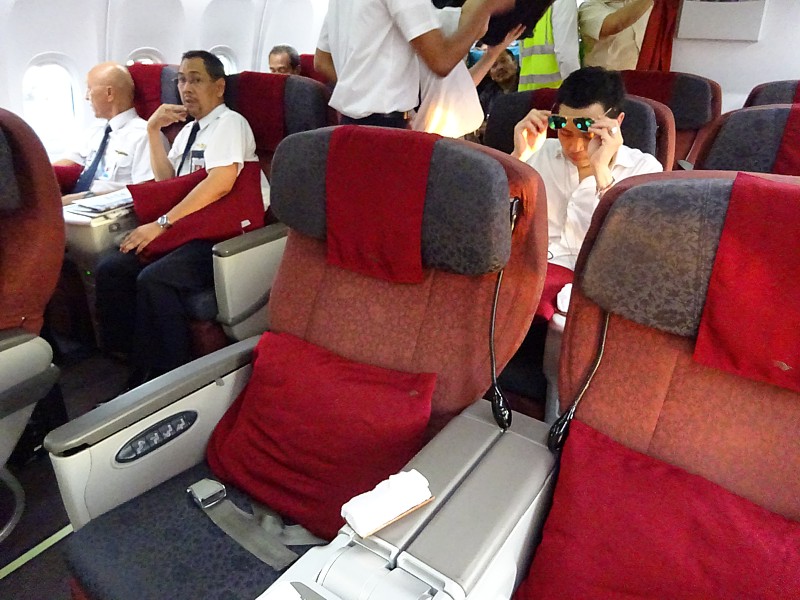 On Garuda's 737s there is a full business class seat, and even a full entertainment system that was slightly more modern than on the A330s. That was, when you had a chance to watch it, as the first 20 minutes of the flight was occupied with a video, full of warnings from the Ministry of Health.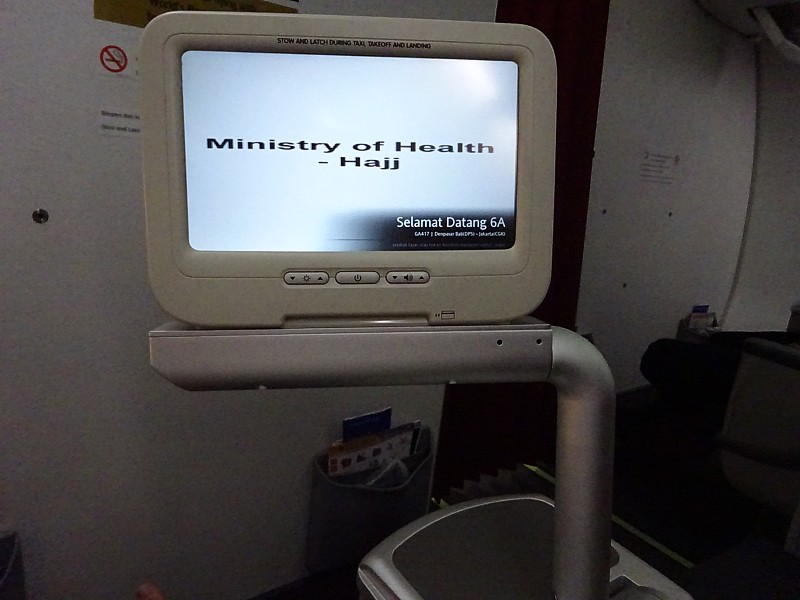 There was a full meal served from Denpasar to Jakarta, of roast chicken in tomato sauce with a cheesy baked potato and veggies. Plus egg salad. And more Bintang. The crew were once again charming, and seemed surprised to find someone who wasn't one of their staff and who had paid to travel in the Garuda Business Class cabin.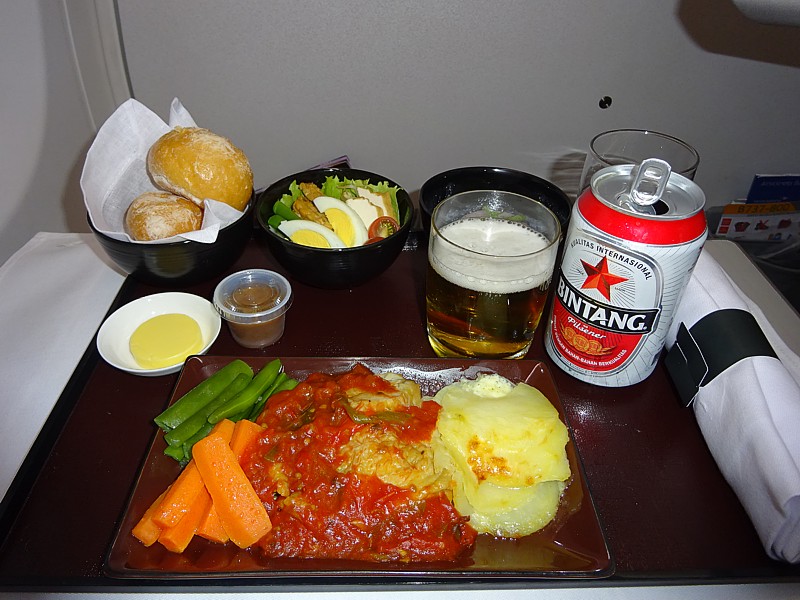 In short, the domestic hop was a very pleasant flight, and all was well, before arriving in Jakarta's chaotic and run down airport.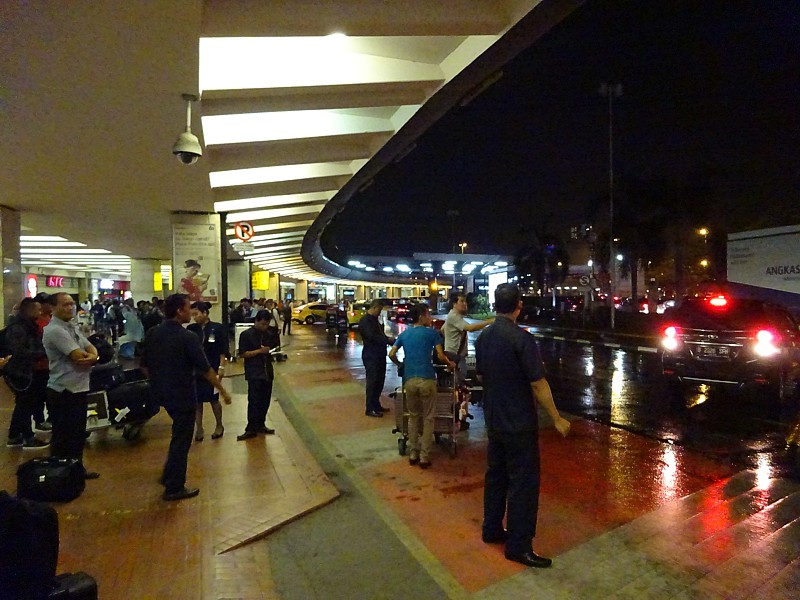 I was quite impressed by the new Garuda. In short, the aeroplanes are new, there was decent service, and Garuda offer cheap upgrades. However, it's certainly not a five star airline. The service needs refinement, and the entertainment could be better.
Lux-traveller paid its own way for this Trip Report from Sydney on Garuda Airlines, and travelled incognito.