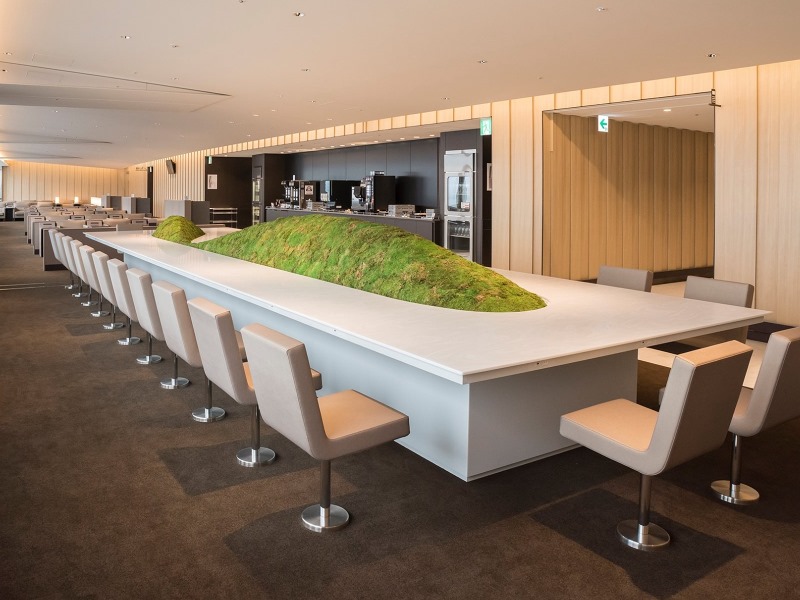 Japanese airline ANA has recently opened its a new ANA Lounge at the Sapporo (New Chitose) airport.
The new Sapporo ANA lounge has design concepts celebrating the local landscape and culture.
There is a long table covered with green moss right in the centre of the lounge which was designed by Kengo Kuma, an architect from Kengo Kuma & Associates.
The new design concept for ANA Lounges is "Ichigo ichie", which roughly translates to "treasure every encounter as if it was once in a lifetime."
The ANA lounges at New Chitose airport, are the first ones to be renovated under this new concept, and the design is characterised by the themes of "door to the sky" and "space enfolded in wings."
This marks the first domestic ANA Suite Lounge at Sapporo (New Chitose) airport. The food and beverage menus are based on premium Hokkaido ingredients, such as cheese tarts, Hokkaido beer, and onigiri rice balls using Hokkaido-produced rice.
The lounge is open to Business Class passengers, and Star Alliance gold members.
All Nippon Airways, or ANA also operates ANA Suite Lounges at Tokyo, Osaka, and Okinawa.