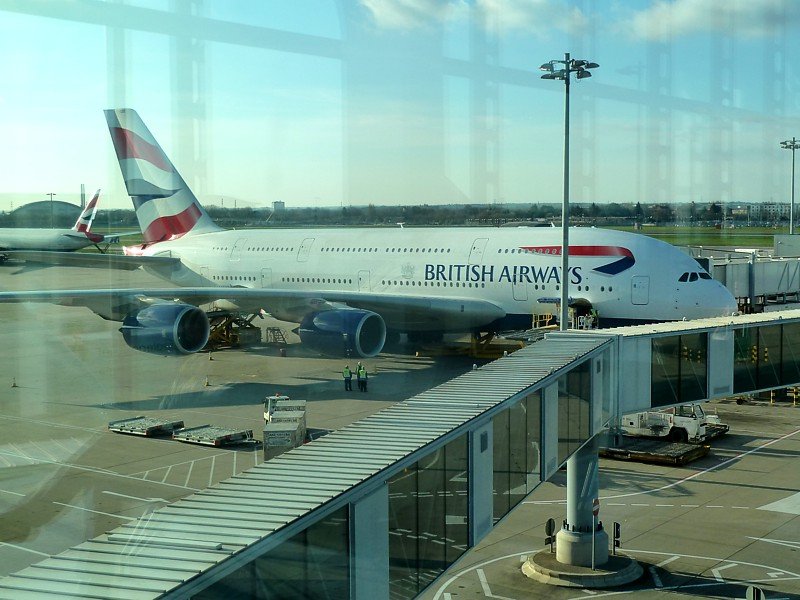 Is British Airways First Class on the A380 worth it? We check out a flight up the most pointy of ends, from London Heathrow to Hong Kong, to see if it is worth over eight grand a ticket.
There aren't many flights you can take where the cost of a one way ticket is the price of a new car, one way. However, London Heathrow to Hong Kong is just such a flight, and with a one way ticket coming in at over eight grand (£8,700) one way, lux-traveller wondered just what we'd get for our money. A seat right up front on the A380 flagship for a start.
Arriving on the bus at London Heathrow terminal 5 from Woking station, the day didn't start particularly well, with a long trek up the escalators to Terminal 5 First check in, and a bit of a grilling before we could even approach the counter. A quick flash of the 'First' on the ticket, and immediately the tone changed to a welcome, much to the bemusement of the woman who was dressed to the nines at the next counter, who clearly wondered what the oik in jeans was doing just with hand luggage at the BA First class check in. I was immediately reminded that Hong Kong is actually one of the cheaper destinations for First. Los Angeles comes in at over ten grand, one way.
The First Wing check-in area has recently had a revamp, and is much larger than before, with more throne like armchairs to sit in while you are being checked in, marble topped side tables and bespoke leather banquettes, no less. It is impressive.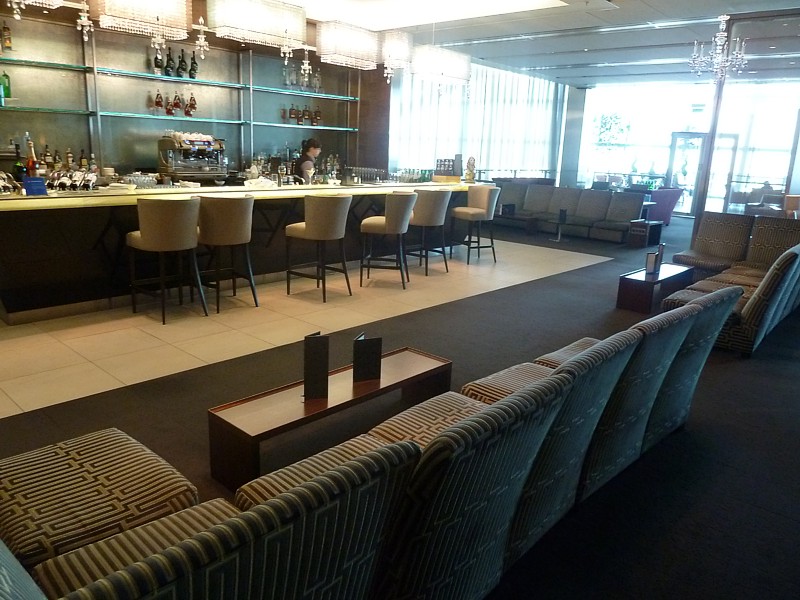 I was in through security in a flash, thanks to the new 'The First Wing', at the far southern end of the terminal, which leads directly into the Galleries First lounge via a private security aisle. With fast-track for First, there were few people using it mid-afternoon, so I could go straight through to the Concorde Room.
In fact Heathrow didn't seem very busy at all which I found surprising.
At lux-traveller we reviewed the Concorde Lounge when it opened, and I'm pleased to say it (generally) remains an oasis of calm that it has always been. When flying First another passenger is hassle indeed, and the only real problem comes with the celebrities in the Concorde Lounge. One of the minders for someone, who I later discovered was a minor actress/singer in LA, was obviously uneasy at lux-traveller taking photos of the wine bottles at the bar.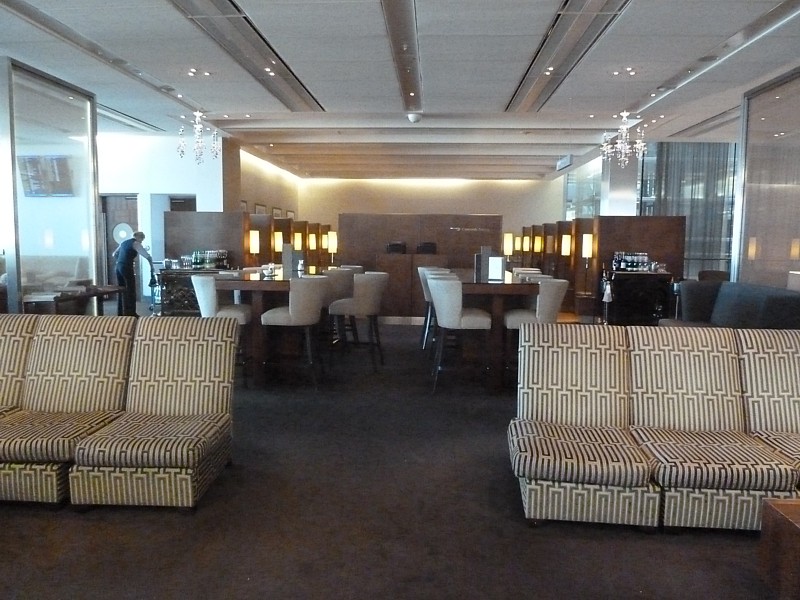 British Airways serve Laurent-Perrier Grand Siecle as it's 'poo in the lounge, which is the same bubbles BA serve onboard in first class, and it is a very good champagne.
My favourite part of the lounge is the terrace, which looks out over the terminal and is open within the terminal, and here you can look down on everyone else queuing to board, which is fun. The famous lounge "horses" - which a lamp on their head - also set the tone nicely. It was totally deserted too, which was a bonus.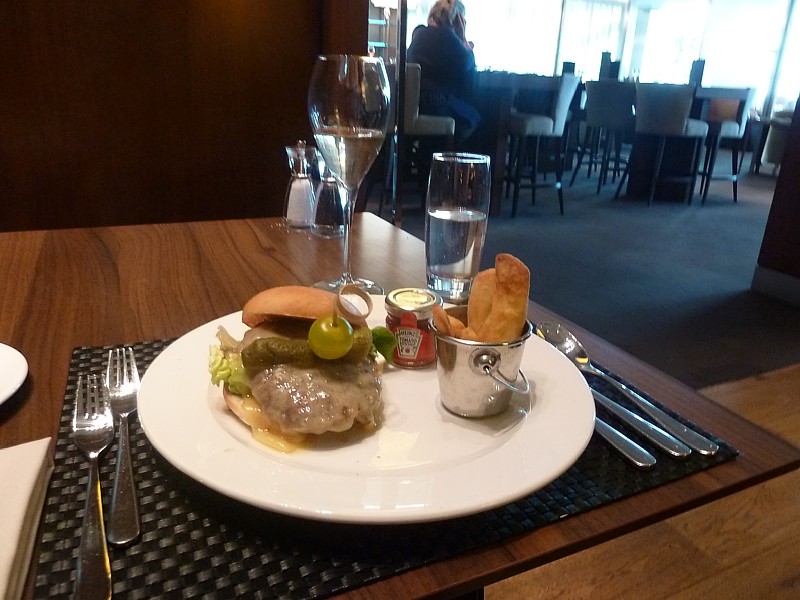 Dining in the Concorde Lounge is always a bit of a mixed bag. It's got some stick for its hygiene rating lately, but I've found it fine. However, the booths are a little too Little Chef for me, and the staff are decidedly hit and miss. There wasn't anyone else dining today, but I still had to wait five minutes while they prepped a table. And is it me, or is it a little depressing hearing the cutlery first laid, then cleared in front of you, as if to say "oh, you're dining alone today?" Yes, of course I am. It's an airport lounge, and I spoke to you five minutes ago about that.
Knowing I would be eating on board, I went for the BA Burger, a firm favourite of mine each time I visit the lounge. You don't get it in the Gold First lounge downstairs, and it comes with good chips and fruit on a stick.
It was clear my flight would be boarding soon, and it was time to head to the gate. Hong Kong being long haul, it was a C gate at that, which meant a trip on the train to the remote gates. The train was packed, and it was pretty clear everyone was heading to Hong Kong too. Thankfully the train arrived pretty quickly after a brief stop at the B gates, and as I made my way up the escalators to the C gates I saw the most enormous crowd. The flight was packed. And not boarding for a while.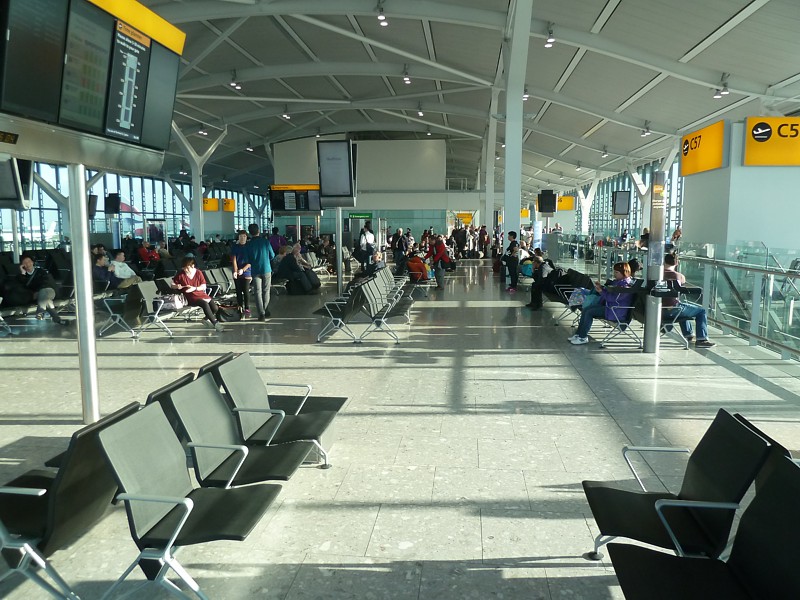 British Airways does not have a lounge at London Heathrow C gates, but instead it has a perk you only know about if you ask the staff in the Concorde Lounge. Free Champagne in Starbucks. A quick flash of my boarding card, and Starbucks handed over a bottle of Moet. This is the only Starbucks in the world that does this, and it's a special perk of First customers on BA flying out of the C gates. Mind you, I got some really odd looks from the other customers, sitting at the gate waiting to board, quaffing the bottle in the five minutes before boarding started.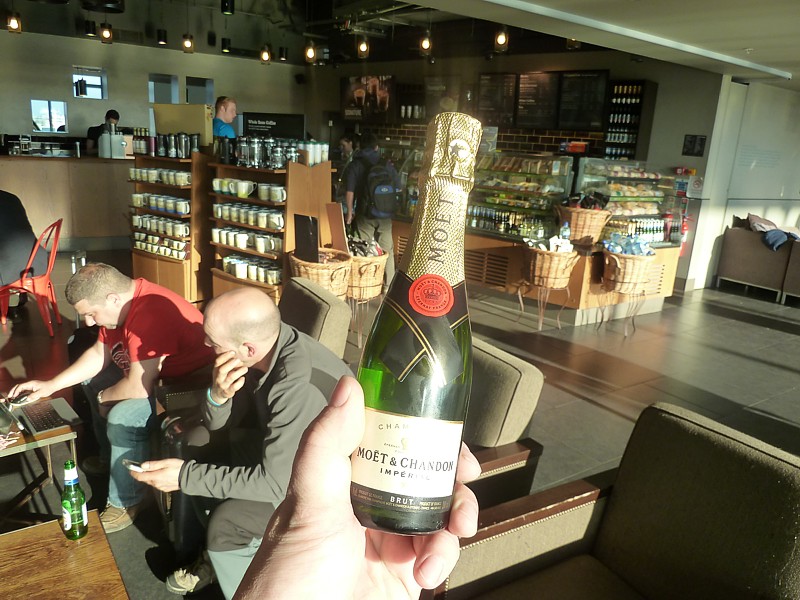 I then joined 'Fast Track' boarding, however Fast Track was pretty much half the A380, since it includes all First and Business class passengers as well as Silver and Gold Executive Club members. A couple who were really dressed up joined the queue right behind me, and they obviously got agitated when I was in the slow moving queue. After a few minutes of talk amongst themselves about 'doing something' about the wait, they tapped me on the shoulder and pointed out that it is a Business Class queue only. I smiled, and replied that's great.
The woman didn't take this kindly, and after a few more minutes muttering went up the head of the queue, and dragged a poor woman away from checking boarding cards, who then tried to be less obvious by announcing the queue was just for Fast Track boarding, and asked for boarding cards. When she got to me, she asked specifically if I was in Business Class. "No I'm not" I replied, and the woman behind me broke out into a victorious smile. "I'm in First Class, but there is no First queue." I then saw the woman's jaw absolutely drop to the floor. She was truly staggered. As I was rushed to the front of the queue and boarded immediately, I gave her a parting comment that I was sure her flight back in Club would be OK. "After all, they still feed you back there in Club."
Entertainment over, I proceeded to board via what must be the world's longest jet bridge. The A380 gates on the corner have a very long wiggly bridge, right out to the tarmac.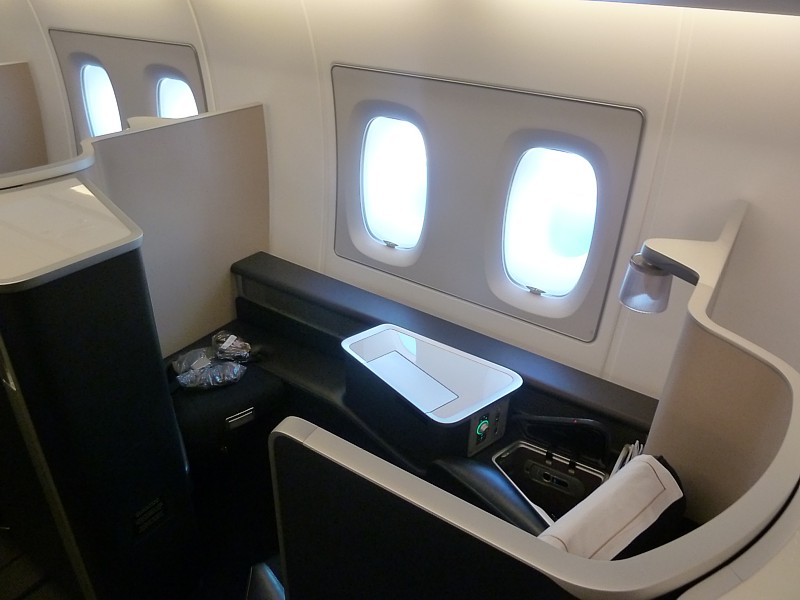 As I entered the cabin the crew were pouring champers in the galley, and scarcely noticed me just asking 'do you want to be shown to your seat?' Well, since my seat was right in front of me at that point, there wasn't a lot of point, but it would have been good if it had happened automatically.
The First cabin of the A380 always seems quite empty on British Airways, with only 4 seats on the side, compared to five on airlines like Qantas, and with an absence of 'bling' unlike Emirates, which always makes it seem cleaner, and quietly sophisticated. There are four First 'suites' by the windows and three pairs in the middle of the cabin.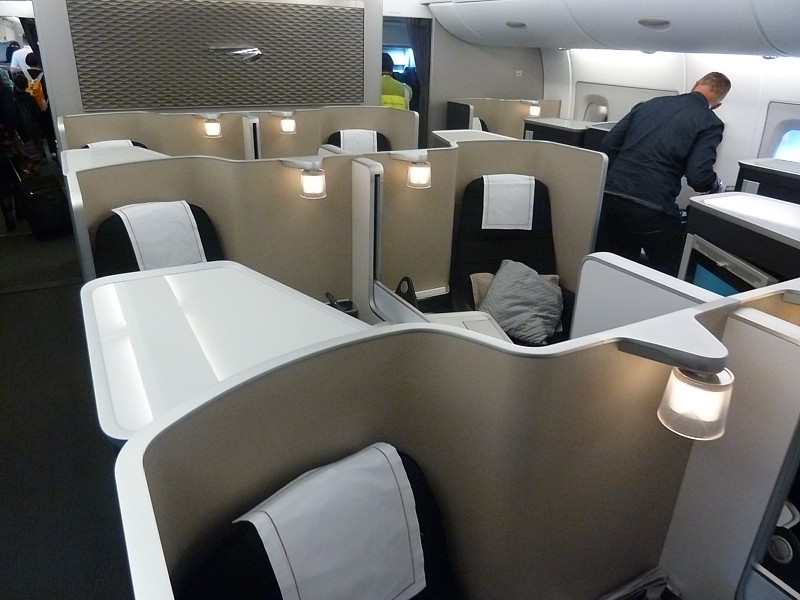 The First Class cabin on the A380 is always a pleasure to enter, although I've noticed some sharply marked differences of opinion between passengers. You certainly don't get the type of reverential service some Gulf airlines offer, but I always prefer the BA crew, who if you get a good crew always make it seem like a special experience, but one you can relate to.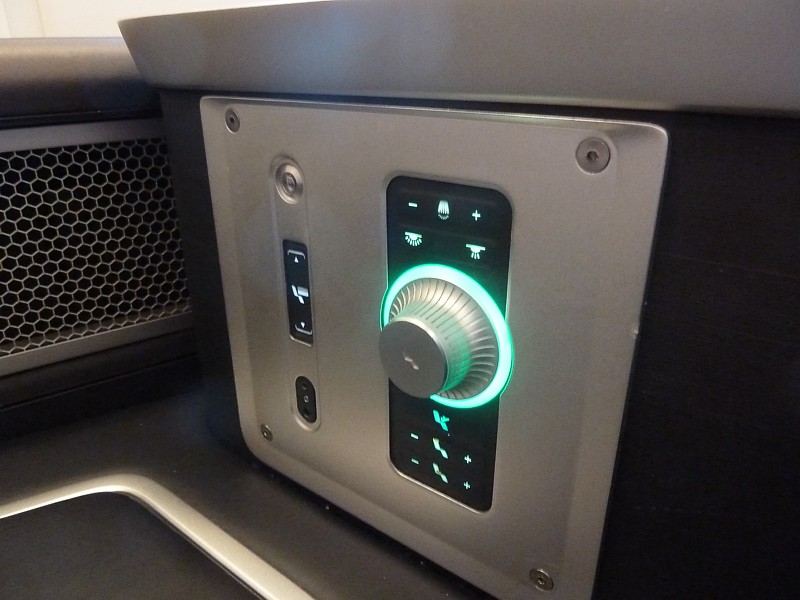 This flight to Hong Kong was pretty empty, with just three other passengers, and that made the cabin seem huge. The seat is pretty much the same as on the Boeing 777 however the space around the seat has been significantly increased, providing a storage cubby hole right next to the passenger, which is large and deep and could more than take everything you want for the flight. There is a large locker at the side of the seat which can take a standard size roller case.
The crew came around to offer pyjamas and an amenity kit and then a welcome drink - and again I went for the champagne.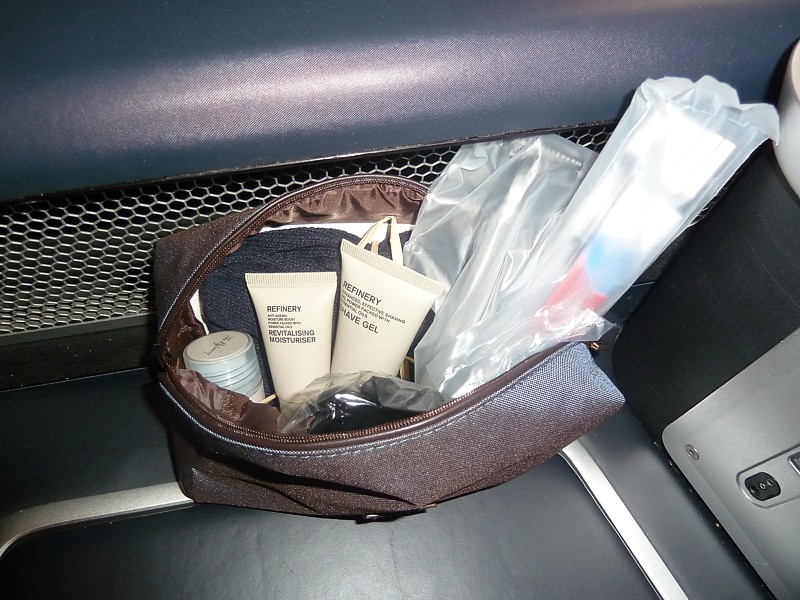 The menus are also handed out, and these come in a neat piece of folded card. On A380 routes out of Heathrow a tasting menu is offered and when I saw it on the menu, I was determined to try it out.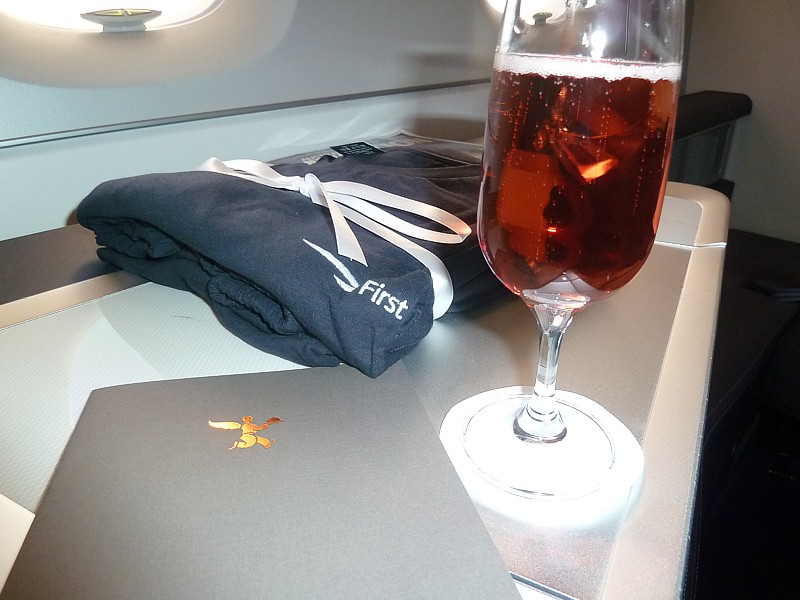 And yet, I was still quite full from the lounge, so asked the crew if I could wait a bit, and if they could hold the degustation meal for me.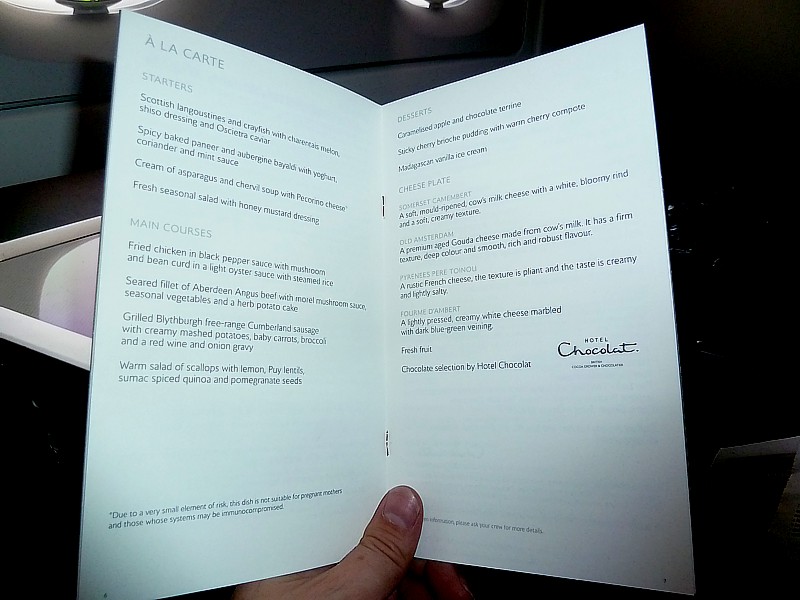 They agreed without an issue - although it would be later, as I found out.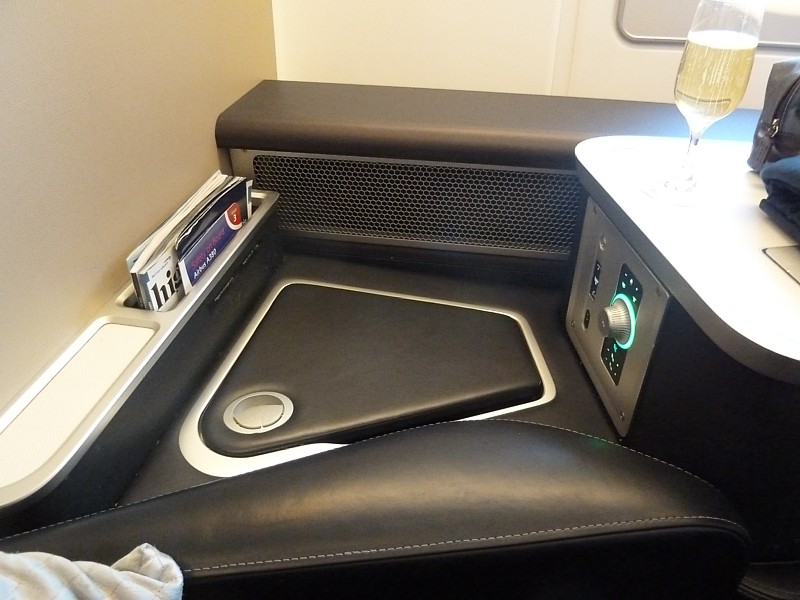 We pushed back on time and then had a very long taxi , mainly because the A380 is only cleared to use specific taxiways at Heathrow, and we were of course on the Northern Runway.
Within 10 minutes or so the seat belt sign was off and the crew started the service, although with only four people in total in the cabin, it was hardly a service, and more a quick wander around. To the crew's surprise I just asked if I could have a beer, and to hold my meal, and they seemed taken aback, suggesting I look at the wine list, but in truth I was getting a little sleepy at this point.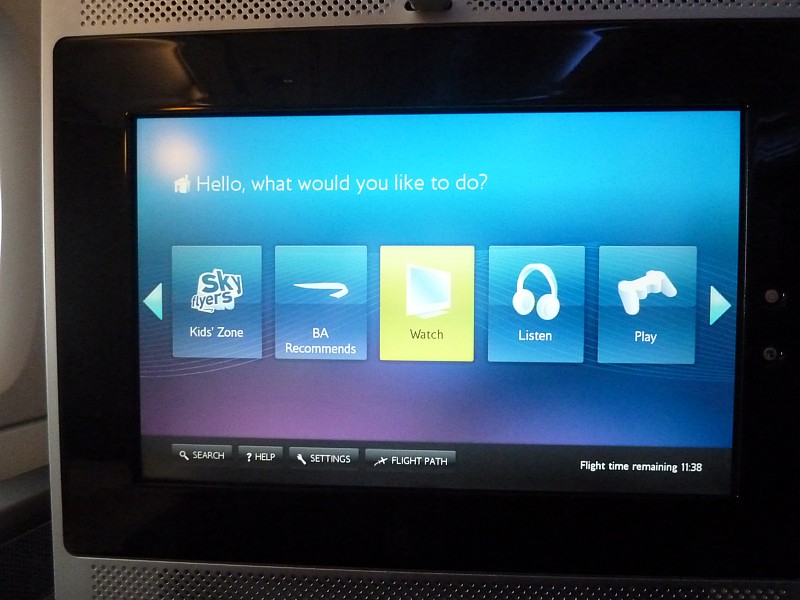 I went through British Airways inflight entertainment system, and it is as good as ever, with a pleasing number of new releases and British films, some of which I hadn't come across before. The AVOD works well, and it is good to be able to pause the film and check on the flight path.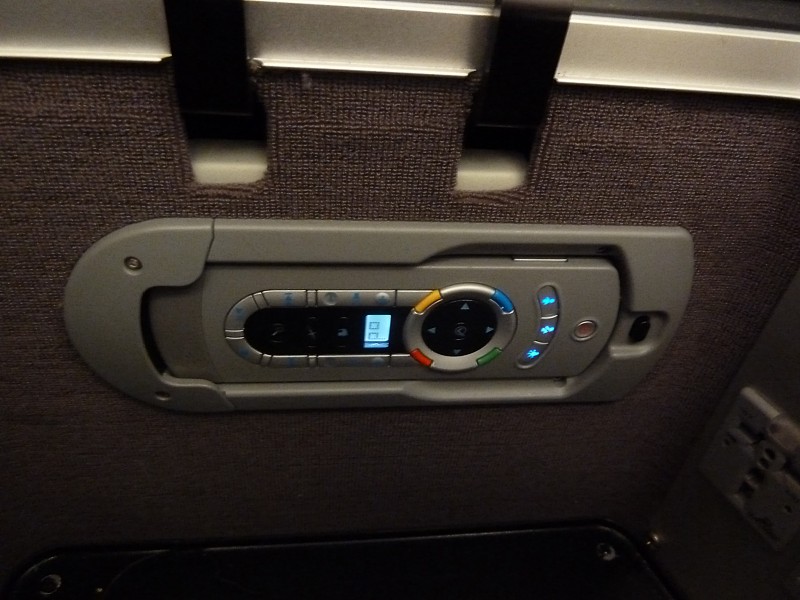 It is always a pleasure to watch BBC World, live via satellite, on British Airways.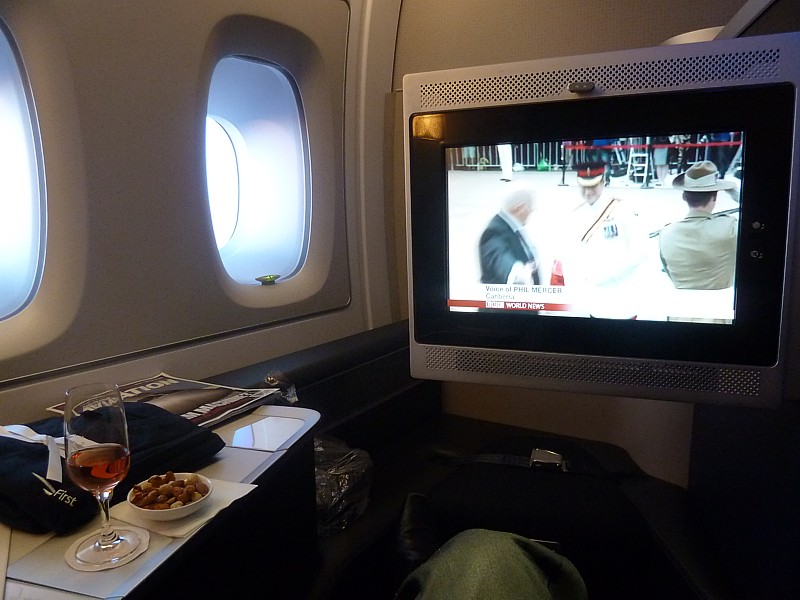 I caught some sleep, and woke about six hours into the flight, to find the cabin in darkness somewhere over the Urals. I am continually amazed at how comfortable the bed is in First Class, and the pillows are very fluffy.
Deciding it was time to try the full British Airways A380 Degustation meal, which due to it's complexity is only offered on the A380 service on a few long haul routes, like this one. However, I needed a drink, and went for the Kir Royale, a signature British Airways cocktail made of champagne and Cassis liquer. Initially though I had to find a crew member, and wandered up to the gallery, to find just the one person having a nap. As soon as he awoke, he brought me the bubbles, along with hot towels and warm nuts, and despite being fast asleep a few minutes before, seemed eager to please.
He asked me if there was anything else, and I asked if I could have my dinner. He seemed confused, and said there might be some snacks, and he could warm up the pasta dish, but I reminded him I'd asked for the Degustation to be held for me. "You want the full meal service, sir?" he asked, obviously willing me to say no, but I confirmed I would have the lot. With trimmings. "Err, right. I might have to wake up another crew member to help me. It could take a few minutes," and with that, off he popped to the gallery.
Twenty minutes later a young lady arrived obviously staggering to wake up, and with hair firmly plastered over one side of her head where it looked as if she had peeled her head of the pillow moments before. "You're the guy who wants to eat?" she asked. I looked around the cabin, where everyone was asleep, and expressed doubt it could be anyone else.
The tasting menu then started. I was hoping the crew could give me some notes on what to try, and the flavours, but each dish was brought around with a pretty brisk 'wine?' question, and that was it.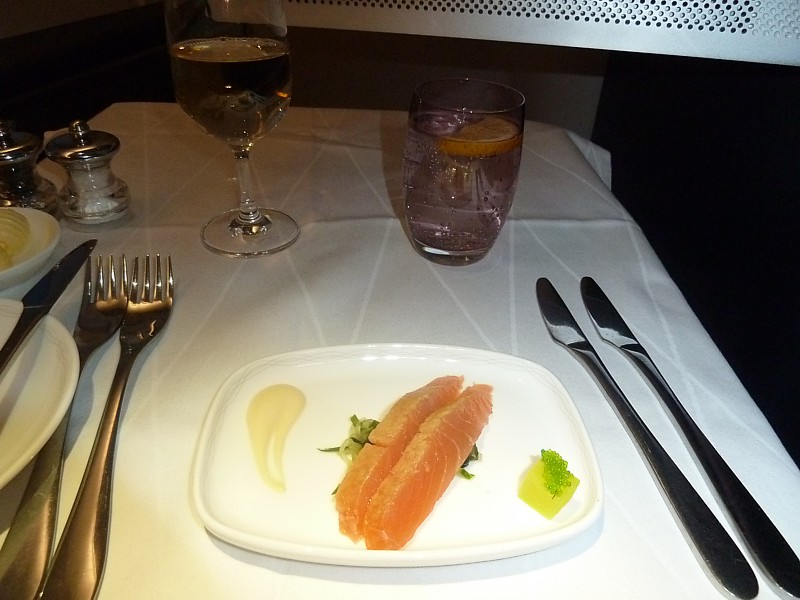 The starter was memorable, with langoustines with picked shimeji in mushroom salad.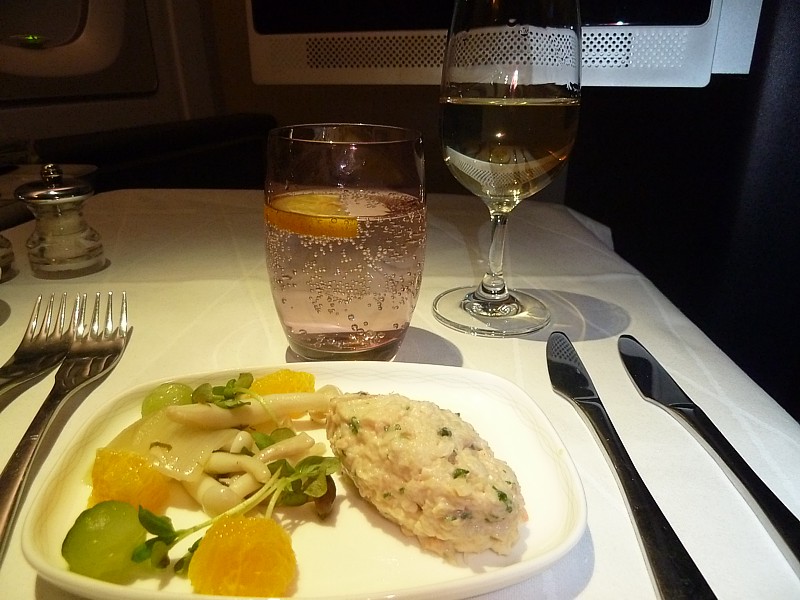 The consomme that followed was interesting and was well presented, although with very small portions.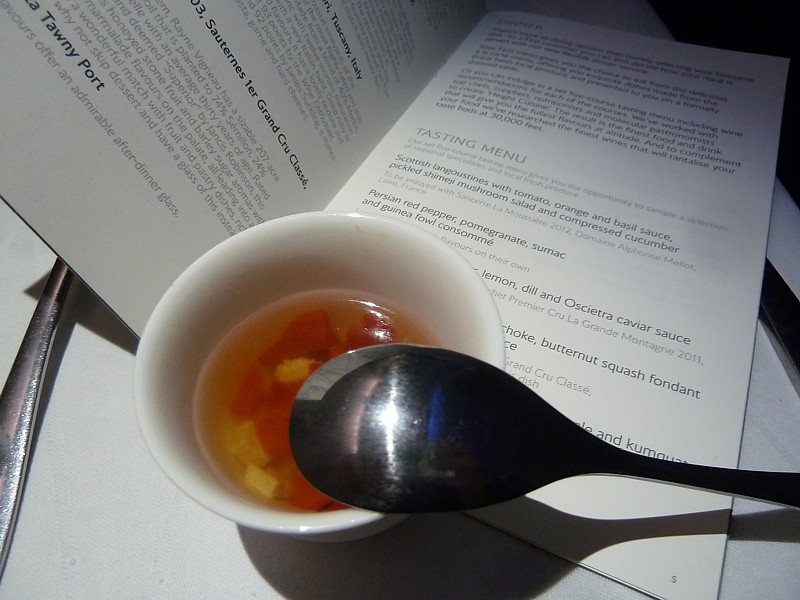 Then came guinea fowl with sumac.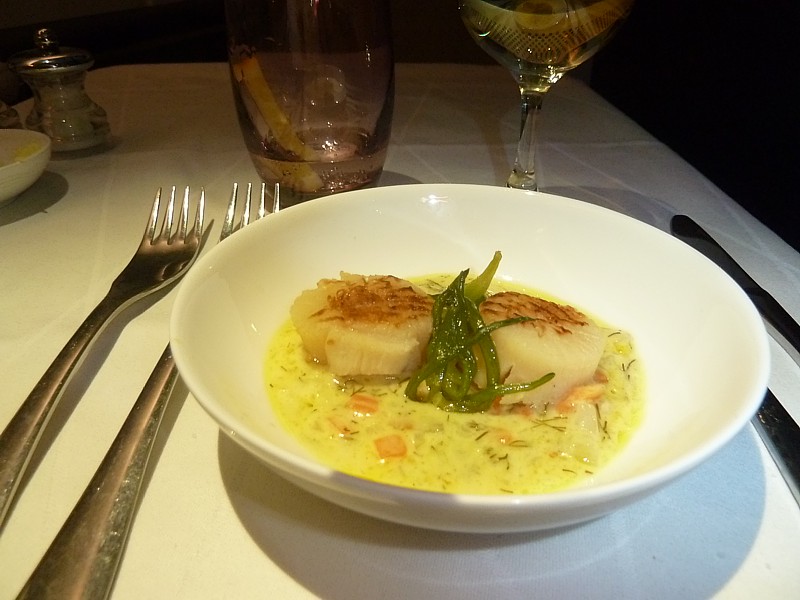 The beef was very good, and the oscietra caviar sauce was quite simply some of the best flavour I've had on an aircraft.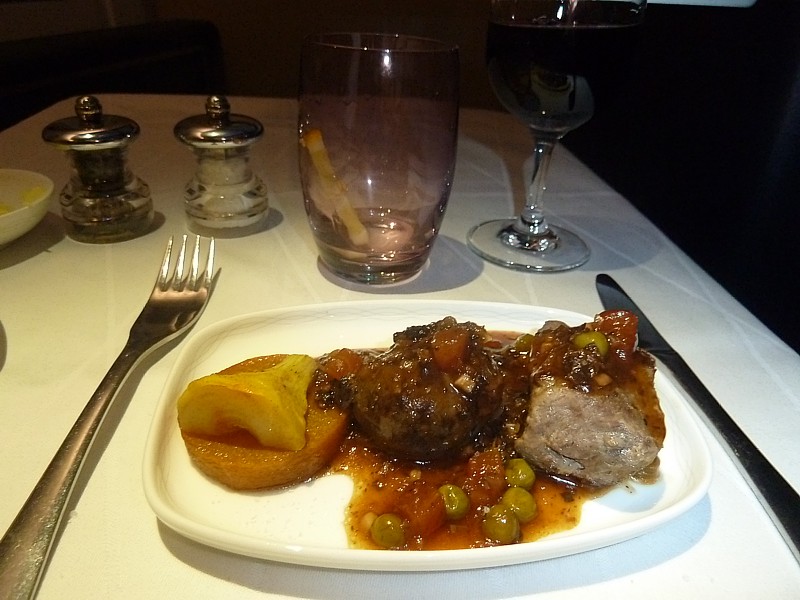 For dessert, the chocolate cake was also very good.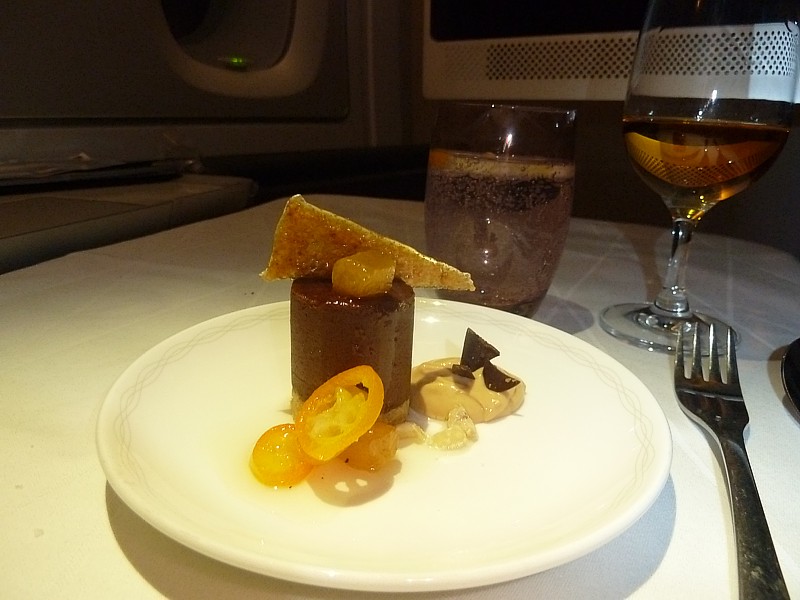 I asked it I could try another dessert too, and the crew just shrugged and said there was plenty left.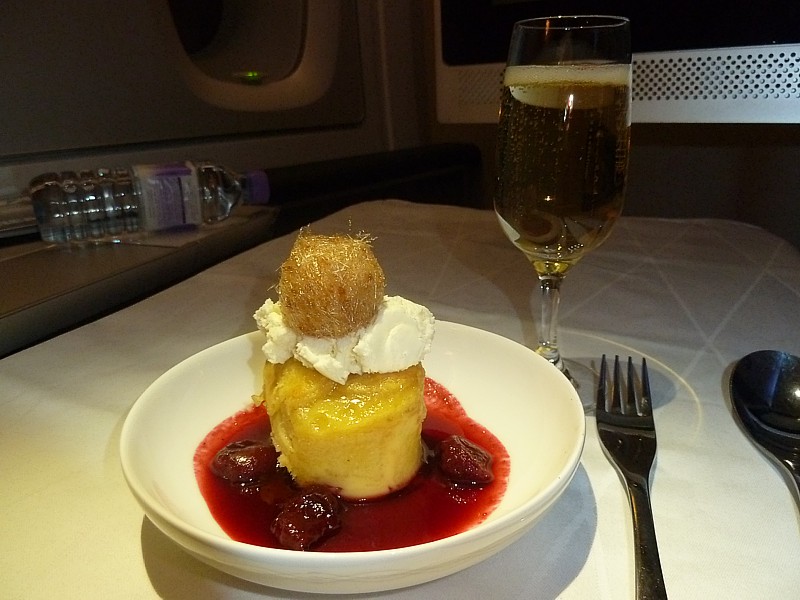 Therefore I went for the full cheese plate too, and had seconds.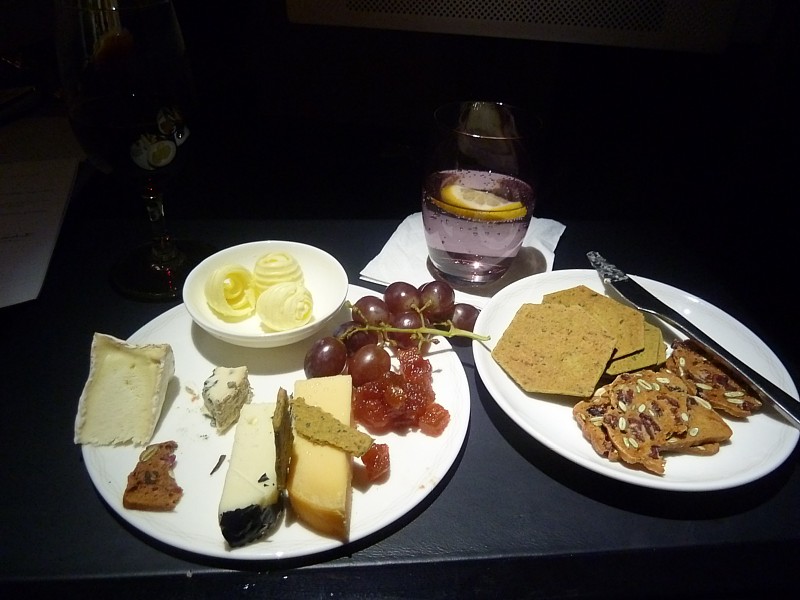 The wine selection was also very good and was well paired with the food.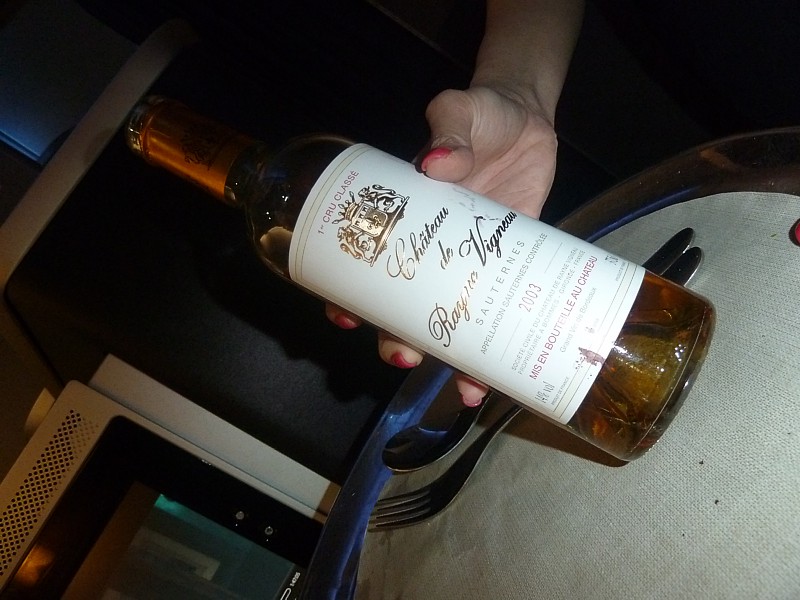 Overall, however, the tasting menu was a little disappointing, with a rushed rather uninterested service. The portion sizes were also a little small.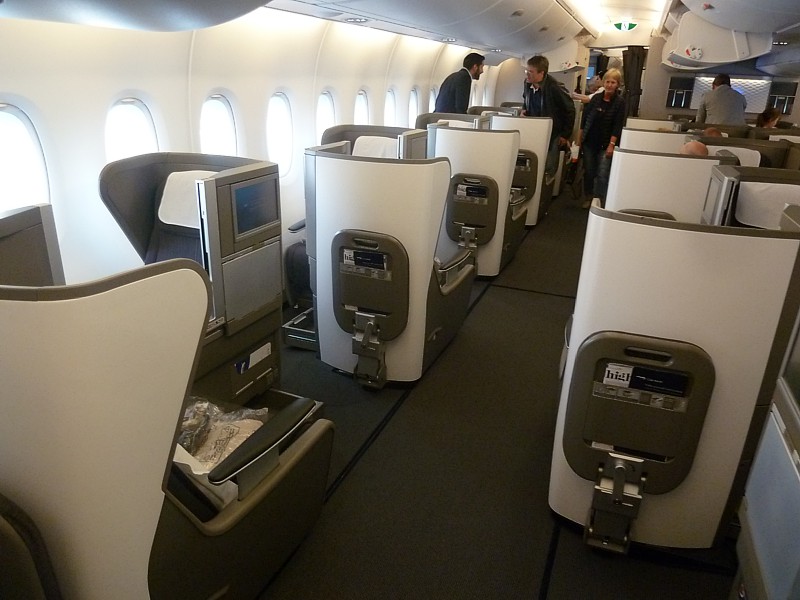 Feeling wide awake, I went for a walk around the aircraft.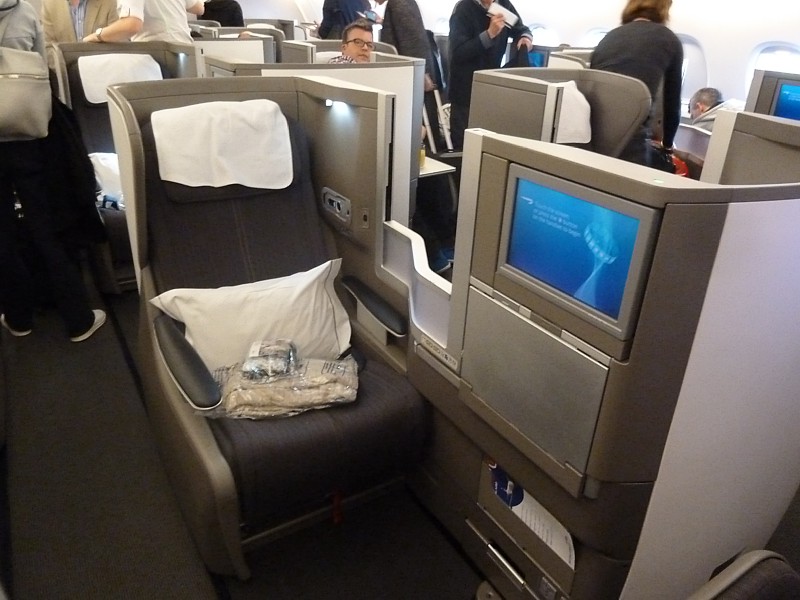 British Airways have tried to cram in as many seats as possible into the A380, and the Club World cabin seemed totally packed.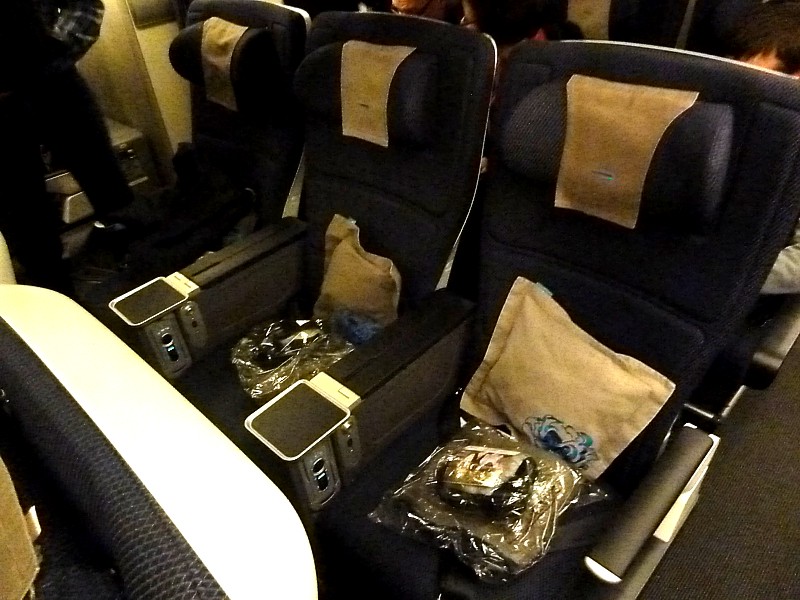 Business Class always seems a bit cramped on British Airways, although the upper deck Club World cabin and the huge toilets which occupy the areas above the staircase.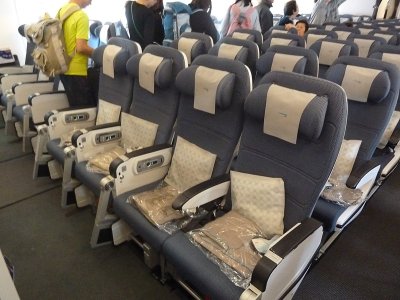 Economy Class - or rather World Traveller - was the usual zoo, although the few people awake seemed to be enjoying watching a bit of telly. I had a quick look at the toilets too. However, on British Airways A380 they are pretty disappointing, unlike the shower suites on the Emirates A380.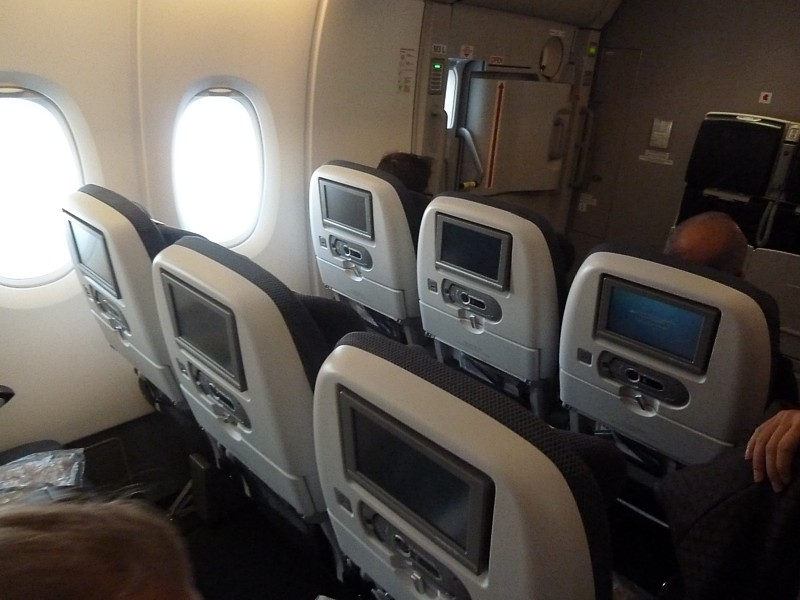 When I returned, my bed was made up and I settled down for a couple more hours sleep, then awoke just as the lights snapped on for breakfast, although by now it was dinner time in Hong Kong.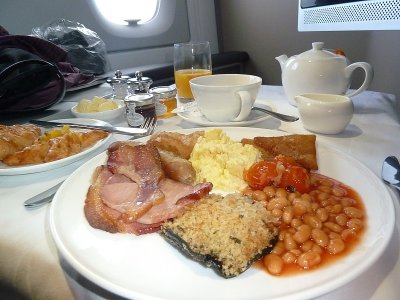 I ordered the full cooked English for breakfast / dinner, and the same crew who has served me dinner switched into breakfast mode without complaint. The only surprise came with the crew who cleared away the dishes, and asked if I had enjoyed my 'upgrade'. This was odd, as I wasn't an upgrade, and made me really question the professionalism of the crew.
By now though it was lovely and light, with a great view as we approached into Hong Kong. It was wonderfully clear, and made it possible to see all the islands and coastline.
We landed five minutes ahead of schedule.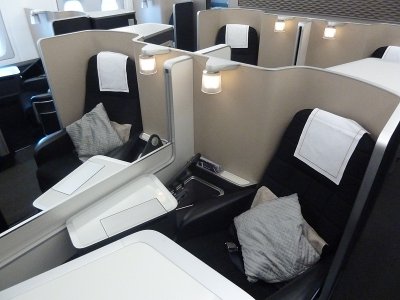 So, would I recommend travelling in First Class? Why yes, of course. Is it worth the price tag? Well, only you can answer that.