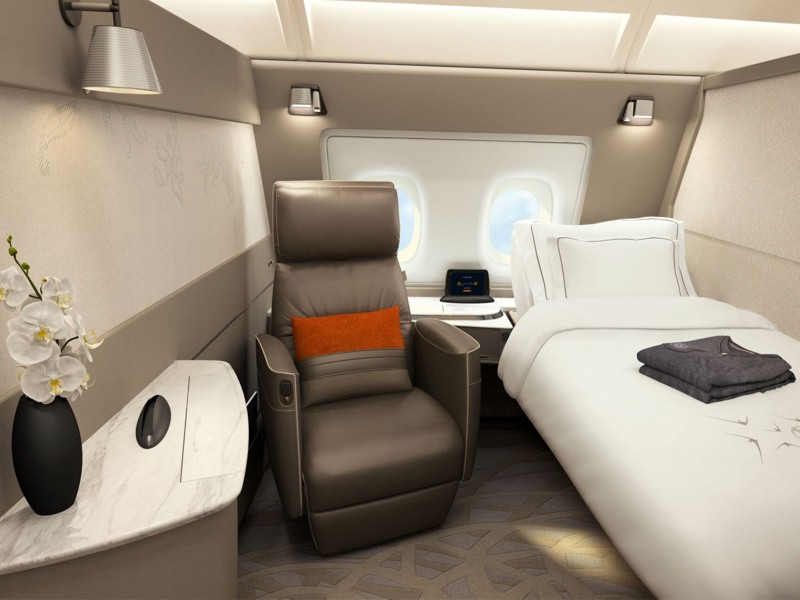 Singapore Airlines has unveiled its new first, business, premium economy, and economy seats. Premium economy moves into the nose, while first class moves upstairs, and has two vast new bathrooms.
The new Singapore Airlines A380 has been launched, with branding of 'space made personal', which means the cabins and seats are somewhat more enclosed in the premium classes.
The A380 seat layout does a floor switch, with Premium Economy right up in the nose of the lower floor of the A380, while First Class moves upstairs.
There are now going to be only six first class seats, called suites, upstairs, with a centre aisle, and high walls to ensure privacy in what is in effect a private cabin.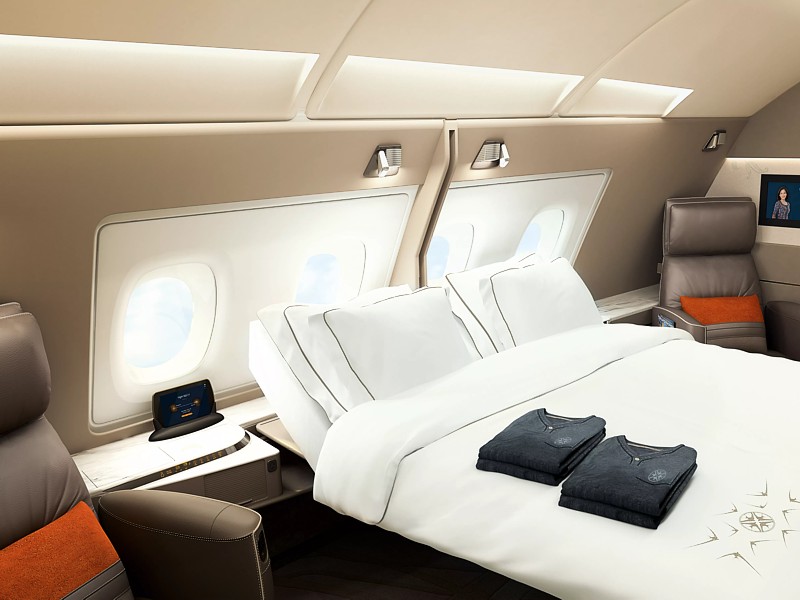 Each cabin has a 21-inch wide Poltrona Frau leather armchair, along with a 76 inch (1.93m) long and 27 inch (68cm) wide bed, which folds down into the cabin. Four of the six suites can be made into two double cabins, with suites 1A/2A and 1F/2F having a dividing wall that can be swung out of place.
The seats have a 32 inch TV screen, electronic blinds, a wardrobe, and an under-bench area for a wheel aboard bag. There is another concealed stowage area with areas for the Bose noise cancelling headphones and new Lalique amenity kit, plus an LED-lit mirror.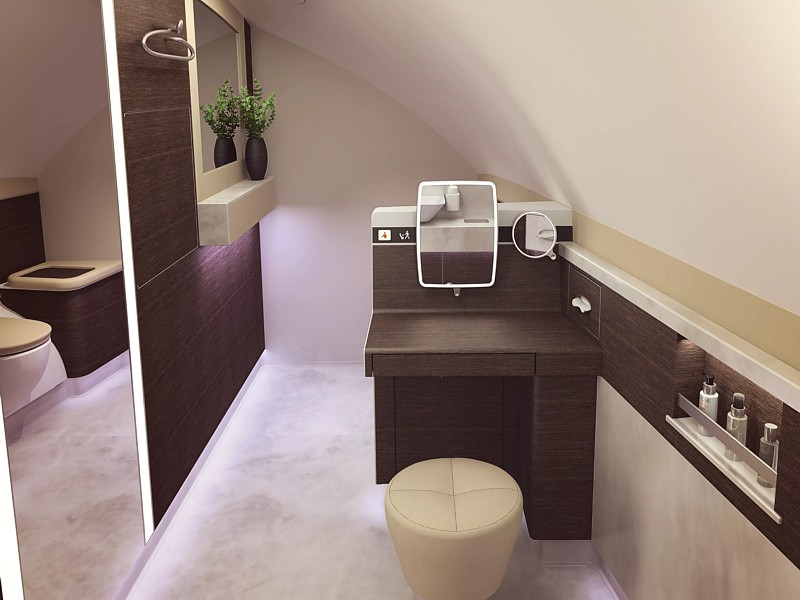 The space on the upper deck in the nose - where currently there are two vast if dull Business Class toilets - are now two very luxe bathrooms, either side of the staircase. The right hand one is much bigger, with a vanity counter as well as bathroom.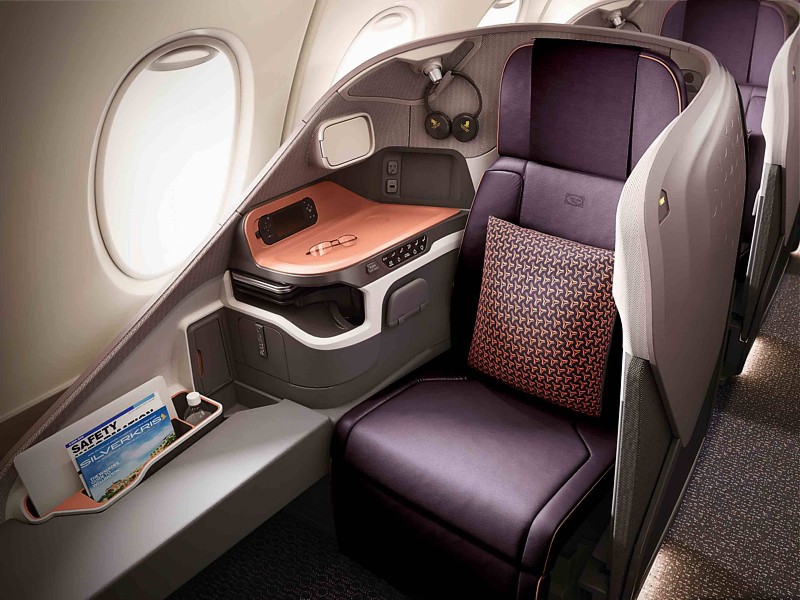 Back in Business Class, the new Singapore Airlines Airbus A380 seats are more an evolution of the seats already found on the Singapore Airline Boeing 777, as lux-traveller reported several years ago, but with a lighter colour scheme, and now some middle seats that can convert into a double bed.
The Singapore Airlines Business Class seats are in a 1-2-1 configuration, 25 inches wide, and with a vast wrap around shell. It converts into a 78 inches (1.98 metres) flat bed. There are USB and 120 volt power sockets, plus an 18 inch High definition TV screen.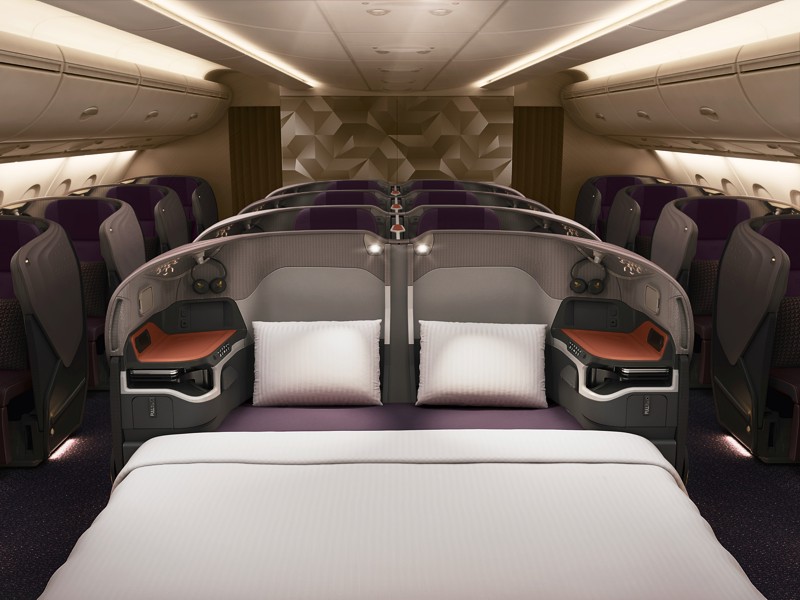 Singapore Airlines A380 Premium Economy is very market-standard, with a 2-4-2 layout, and with the same 38-inch pitch and 19.5 width and a recline of eight inches as previously lux-traveller has reported. There is however an increase in seats of now 44 premium economy up from 36, and they also have the perk of sitting in the nose of the A380.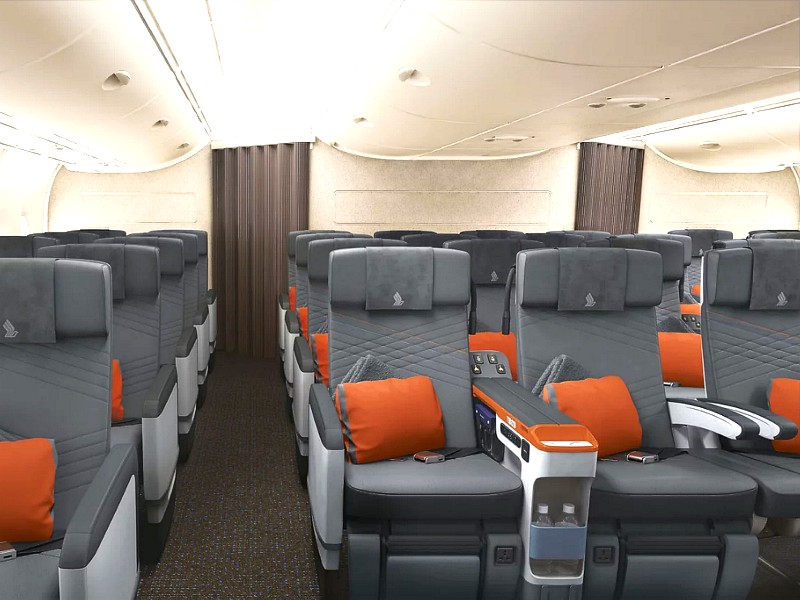 Each seat is designed by JPA Design and manufactured by ZIM Flugsitz GmbH, and has a 13.5 inch HD TV screen, a mains and two smaller USB ports. There's a reading light, cocktail table and a padded legrest.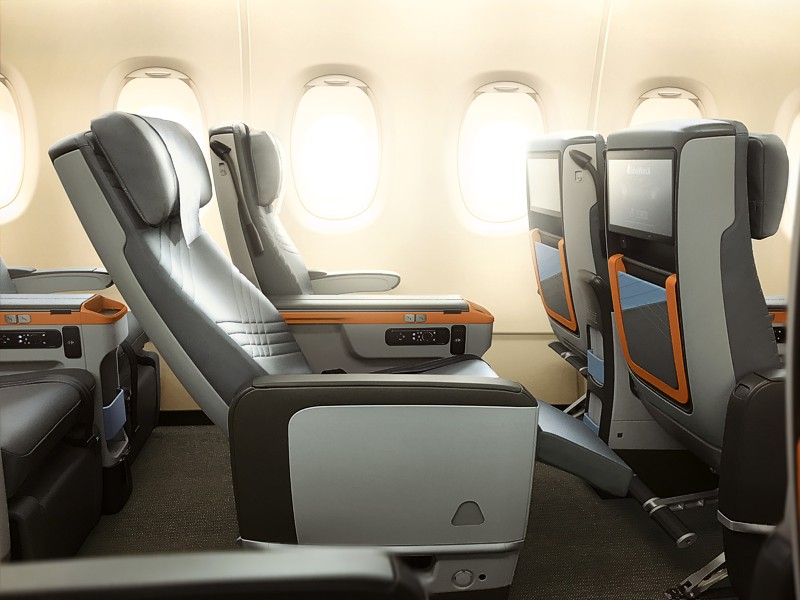 The Singapore Airlines A380 Economy Class seat see little change, other than a new cover. Designed and built by RECARO it has an 11 inch TV screen, but in a novel move, has no handset.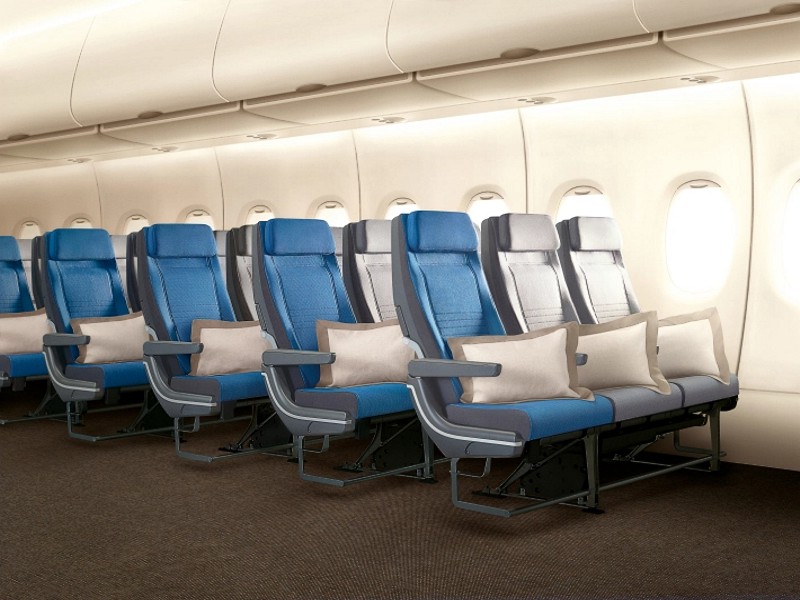 However, Singapore Airlines KrisWorld inflight entertainment system remains unchanged.
The new seats on the Singapore Airlines A380 will start flying at Christmas 2017 between Singapore and Sydney and then to London from March 2018.